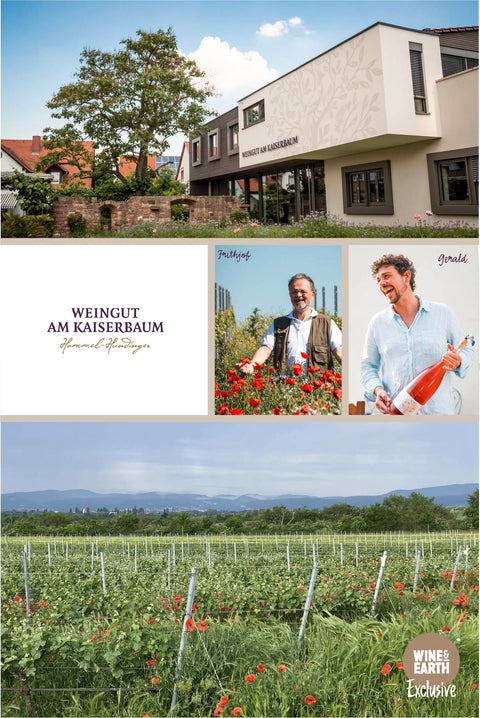 Weingut am Kaiserbaum
Trocken 2018
Qualitätswein, Pfalz, Germany
100% Riesling | 12.50% ABV
Discover this 2018 Rosenbuhl, a German white wine which is a delicious, drier style of Riesling that nicely reflects the Pfalz region in Germany where they are produced. It is dry but not all austere, with an appealing roundness and fruit core. It is one of the most versatile varieties that can pair with many different types of food but can also be easily enjoyed on its own.
Tasting Notes
Appealing and aromatic notes of yellow pineapple and white flowers lead into a moderately rich and present palate of apricot, pear and candied lemons. Mouth-filling with a gentle acidity that is folded into its notable fruit layers.
Service & Food Pairing
Service: Serve at 8°-10°C.

Food pairing: Good with fish, poultry, shellfish, spicy and vegetarian dishes.
Meet the Winemaker
Gerald Hundinger, the current generation winemaker is committed to respect not only life and nature but also really good wines. "Riesling with its vibrant and balanced acidity is an amazing variety that is totally corresponding with the terroir. Blended with the floral Gewürztraminer, it is the Riesling that brings forward the freshness. Rieslaner (a crossing of Riesling & Silvaner) is our favourite variety for sweet wines as these wines have an incredible balance of sweetness and acidity. They provide you a mouth full of flavour at a surprisingly low alcohol level" says Gerald.
About the Vineyard & Estate
The 25-hectare winery located in the southern German winegrowing region of the Pfalz. It was created by the Hammel-Hundinger family in the 1960s by the grandfather of Gerald, its current winemaker. However, like many in farming communities, they were grape growers in a polyculture farm for multiple generations prior.

They call their Domaine after the empress tree, a special tree that is not native and usually found in Mediterranean climates. Frithjof and Margit, Gerald's parents, were on holiday when they noticed its beauty and so decided to plant it on the estate to mark the year of Gerald's birth. It has remained the centre piece of the estate and is also featured on their labels.

There is a legend that says if a phoenix is found on an empress tree, one will have luck and peace, so to perpetuate this idea, they included a phoenix on their label as well.
The full low-down
White | Still | 75cl | 12.5% ABV | Contains Sulphites
Cellaring: Ready to drink now.
Vinification: Fermentation in small, cooled stainless steel tanks.
Why buy from Wine&Earth?
We care. About wine. About the planet. And about providing brilliant service.
Only the best quality wines, as selected by top sommeliers, make it into our portfolio.
Our sole focus is on ethical producers who nurture the land for today and for the future.
We offer free carbon-neutral delivery to your door when you spend £150 or more.
Proud to be rated "Excellent" by our customers on TrustPilot (average rating: 5 stars).
If you're ever unhappy about the quality, we'll send you a replacement bottle for free.
Quality Organic Wines
At Wine&Earth we specialise in curating eco-friendly wines from independent producers around the world. In this collection, we feature our delicious certified organic wines and biodynamic wines.