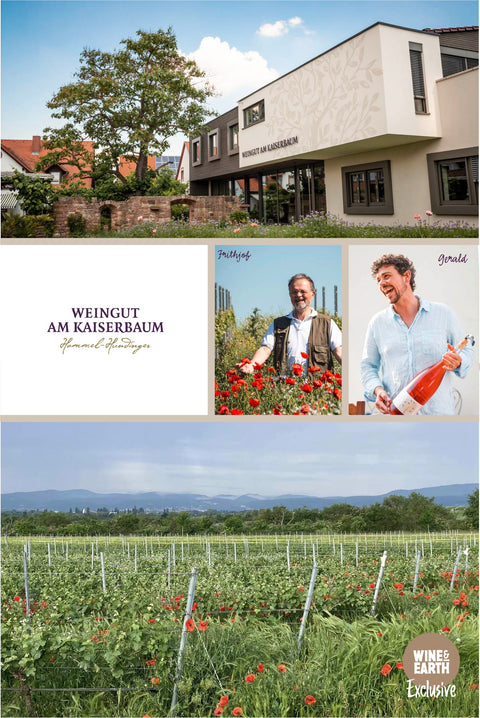 Weingut am Kaiserbaum
Fruchtig 2019
Qualitätswein, Pfalz, Germany
Blend: 65% Gewürztraminer, 35% Riesling | 11.50% ABV
We are proud to offer this 2019 Fruchtig, a German white wine which is a unique blend that showcases both of its grapes, Gewürztraminer and Riesling beautifully produced in the Pfalz region of Germany. It perfectly balances the succulent fruitiness while remaining fairly dry. A perfect choice for those who appreciate aromatic wines.
Tasting Notes
The acidity and minerality of Riesling is offset by Gewürztraminer's unctuous lychees and aromatic floral and spice notes.
Service & Food Pairing
Service: Serve at 8°-10°C.

Food pairing: Good with fresh or semi-soft cheese, poultry, shellfish, spicy and vegetarian dishes.
Meet the Winemaker
Gerald Hundinger, the current generation winemaker is committed to respect not only life and nature but also really good wines. "Riesling with its vibrant and balanced acidity is an amazing variety that is totally corresponding with the terroir. Blended with the floral Gewürztraminer, it is the Riesling that brings forward the freshness. Rieslaner (a crossing of Riesling & Silvaner) is our favourite variety for sweet wines as these wines have an incredible balance of sweetness and acidity. They provide you a mouth full of flavour at a surprisingly low alcohol level" says Gerald.
About the Vineyard & Estate
Kaiserbaum's Gewürztraminer & Riesling blend is produced across multiple places in the village of Weisenheim am Sand. Some of the 30-year-old Riesling vineyards produce their Rosenbühl Trocken cuvée.

The vines for the Gewürztraminer are younger, having only been planted in 2012. The soils are varied between sandy loam and limestone.
The full low-down
White | Still | 75cl | 11.5% ABV | Contains Sulphites
Cellaring: Ready to drink now.
Vinification: This fresh wine is fermented with selected yeasts in stainless steel, temperature-controlled vats. Once fermentation is carried out, the wine is racked and allowed to stay on its fine lees for 4-5 months following the vintage. The wines are filtered before bottling for stability and to keep the grapes' juiciness intact.
Why buy from Wine&Earth?
We care. About wine. About the planet. And about providing brilliant service.
Only the best quality wines, as selected by top sommeliers, make it into our portfolio.
Our sole focus is on ethical producers who nurture the land for today and for the future.
We offer free carbon-neutral delivery to your door when you spend £150 or more.
Proud to be rated "Excellent" by our customers on TrustPilot (average rating: 5 stars).
If you're ever unhappy about the quality, we'll send you a replacement bottle for free.
Quality Organic Wines
At Wine&Earth we specialise in curating eco-friendly wines from independent producers around the world. In this collection, we feature our delicious certified organic wines and biodynamic wines.