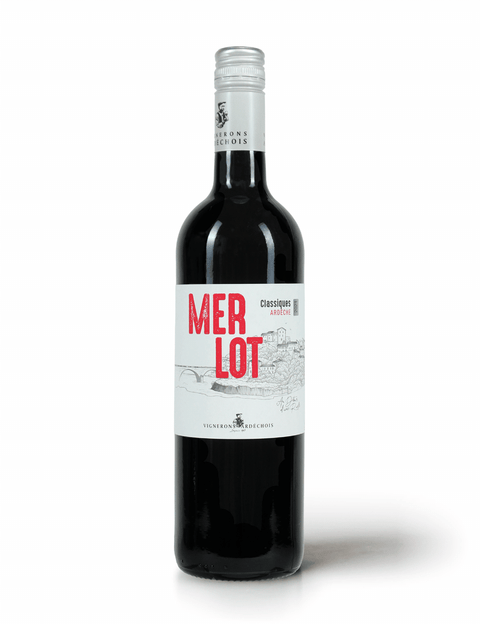 Vignerons Ardèchois
Vignerons Ardèchois Merlot 2021
IGP Ardèche, Rhône, France
100% Merlot | 13.5% ABV
We are proud to offer this 2021 Merlot made from 100% Merlot grapes in the Rhône region of France - a wine with substance; long and persistent with tannins present but melted. On the label, the illustration painted by Sgarra, a cubist-inspired artist, represents the village of Balazuc, its church, cliffs, and bridge spanning the Ardèche River.
Tasting Notes
A ruby ​​red colour. A fruity nose of red fruits (blackcurrant and prune). A full and fruity mouth. A wine that has substance; long and persistent with tannins present but melted.
Service & Food Pairing
Service: Serve at 16°C.

Food Pairing: Ideal with pies and salty cakes. Excellent with all meats; red, grilled, roasted, or in sauce and cooked cheeses.
Meet the Winemaker
The Vignerons Ardéchois Cave Co-opérative has its roots in the late 1960s when the Presidents of 7 major Cave Co-opératives agreed a unified policy of modernisation, re-planting and marketing. Based in the town of Ruoms, 20 kilometres south of Aubenas this forward-thinking, modernist collective has done much to revive the fortunes of this ancient vine-area, which dates back to Roman times. Today they represents close to 2000 grape growers from 21 different smaller co-operatives.
About the Vineyard & Estate
The vineyard is located in the south east of southern Ardèche on the right bank of the Rhône valley. Traditional vinification allows all the aromatic richness of Merlot to be extracted.
The full low-down
Red | Still | 75cl | 13.5% ABV | Contains Sulphites
Cellaring: Drinking well now, will develop over next 2-3 years.
Vinification: The winemaking is traditional with vatting for 8 to 10 days. The fermentation temperature is controlled at 25°.
Why buy from Wine&Earth?
We care. About wine. About the planet. And about providing brilliant service.
Only the best quality wines, as selected by top sommeliers, make it into our portfolio.
Our sole focus is on ethical producers who nurture the land for today and for the future.
We offer free carbon-neutral delivery to your door when you spend £150 or more.
Proud to be rated "Excellent" by our customers on TrustPilot (average rating: 5 stars).
If you're ever unhappy about the quality, we'll send you a replacement bottle for free.
Quality Organic Wines
At Wine&Earth we specialise in curating eco-friendly wines from independent producers around the world. In this collection, we feature our delicious certified organic wines and biodynamic wines.