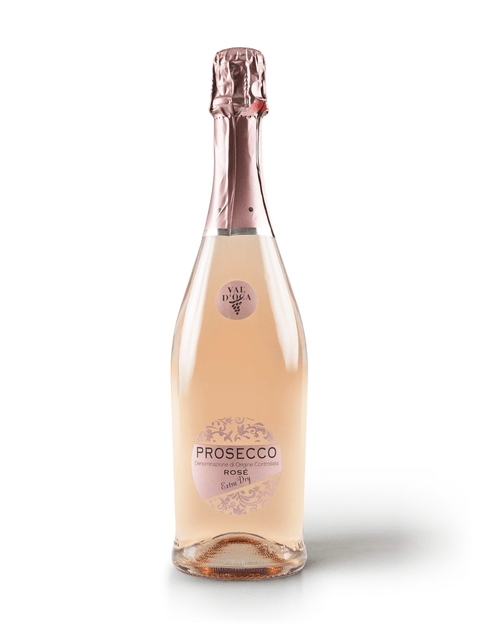 Val d'Oca
Prosecco Rosé Extra Dry Millesimato 2020
DOC Prosecco, Veneto, Italy
Blend: 90% Glera, 10% Pinot Noir | 11.5% ABV
Discover this 2022 Rosé Extra Dry Millesimato made from a blend of Glera and Pinot Noir grapes in the Veneto region of Italy. This blush Italian pink sparkling wine has a touch of fruit sweetness that adds roundness and a bit of depth. It is a true pleaser, similar to a normal Prosecco, but with a bit more fruit and body.
Tasting Notes
It has a pale pink colour. The aroma is fruity and soft, with gentle nuances of ripe fruit. On the palate it is soft and enveloping with apple, pineapple and citrus yielding a mouthfeel that is delicate but always capable of exhibiting character and personality.

Service & Food Pairing
Service: Serve chilled at 6-8°C.

Food Pairing: Cheese, fish, pasta with white sauce, poultry, shellfish, and vegetarian dishes

Meet the Winemaker
Carlo Pagotto is the winemaker of Cantina Produttori di Valdobbiadene – Val D'Oca. Born in 1961, in Conegliano – Veneto, Carlo is one of the most important winemakers in the Prosecco area. He has more than 30 years of experience and played a vital role in testifying to the transition of the denomination from local wine to international success. Once he finished his studies, he worked in different realities of the DOCG area. At the beginning of the 2000s, he started a new chapter of his professional life, joining the Cantina Produttori di Valdobbiadene team. Nowadays, he is the backbone of the winery, and thanks to his experience and knowledge, the company is on the right growth path.
About the Vineyard & Estate
Val d'Oca is one of Italy's top-quality cooperatives that is based in Valdobbiadene, one of the most extraordinary and atmospheric landscapes in the entire country. The terroir is arguably its great strength with a number of parcels lying in the hilly area between Valdobbiadene, Asolo, and Conegliano, at the foot of the Treviso Prealps, Prosecco's top-quality zone. The co-op was established in 1952 and includes around 600 grape growers who own approximately 1000 hectares. Their savoir faire paired with their extensive vineyard range enables them to produce a wide selection of styles and qualities.
The full low-down
Rosé | Sparkling | 75cl | 11% ABV | SO2 67mg/L
Annual Production: 14 Million Bottles.
Why buy from Wine&Earth?
We care. About wine. About the planet. And about providing brilliant service.
Only the best quality wines, as selected by top sommeliers, make it into our portfolio.
Our sole focus is on ethical producers who nurture the land for today and for the future.
We offer free carbon-neutral delivery to your door when you spend £150 or more.
Proud to be rated "Excellent" by our customers on TrustPilot (average rating: 5 stars).
If you're ever unhappy about the quality, we'll send you a replacement bottle for free.
Quality Organic Wines
At Wine&Earth we specialise in curating eco-friendly wines from independent producers around the world. In this collection, we feature our delicious certified organic wines and biodynamic wines.