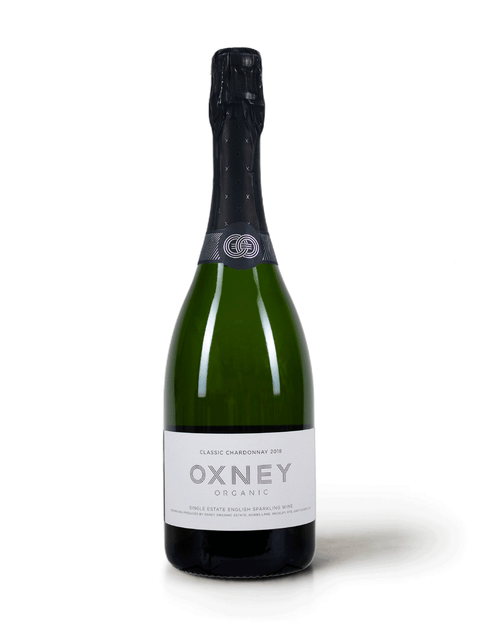 Oxney Organic Estate
Oxney Blanc-de-Blanc 2018
East Sussex, England
100% Chardonnay | 12.0% ABV
A fabulous sparkling wine, giving Champagne a run for its money. This is a taste of more great things to come on the English wine scene, from our favourite English estate, Oxney Organic. Blind taste it with friends and see their reaction when you tell them this beautiful blanc de blanc (100% Chardonnay) fizz was grown and made in East Sussex!
Tasting Notes
Made with very ripe fruit from the endless summer of 2018. Lovely lemon and citrus notes pair amazingly with the brioche characters from 36 months on lees.
Service & Food Pairing
Serve chilled (6-8°C) as an aperitif with canapés. Hold it in your mouth and feel the fizz of the bubbles after you've eaten something salty!
Meet the Winemaker
Winemaking is overseen by founder Kristin Syltevik with Sicilian winemaker Salvatore Leone. The grapes are hand-picked and transported to the winery which is located in an old converted grade II listed oast house adjacent to the vineyard. A sustainable approach is followed in the winery with a focus on low intervention, using whole bunch pressing in small batches, natural yeasts and minimal filtration.

Hear from Salvatore here: https://youtu.be/CfLEUfIAaiE?feature=shared
About the Vineyard & Estate
Six miles north of Rye, in the village of Beckley in the south east corner of East Sussex, Oxney Organic Estate has been producing award-winning organic wines since 2014. The first vines were planted in 2012 by founders Kristin Syltevik and Paul Dobson, who run Oxney as part of a wider organic farming estate. Today Oxney is the largest estate producer of organic English wines. Oxney wines are crafted as a showcase for the naturally high-quality grapes grown in the vineyard. In the winery – a converted Grade II oasthouse – interventions are kept to a minimum to promote full fruit expression.

Planted between 2012 and 2018, Oxney's 14 hectares of vines are located on a warm, sheltered site six miles from the English Channel and 17 metres above sea level. Vines are planted on a gentle southwest-facing slope, which maximises sun exposure and aids ripening. An adjoining ancient oak forest provides natural wind protection, helping to create excellent conditions for growing high-quality organic grapes. Four varieties are planted – Pinot Noir, Chardonnay, Pinot Meunier and Seyval Blanc. The soil is Tunbridge Wells sand – a fine sand and silt loam – above clay bedrock.

In their own words: "There's an old saying that great wines are made in the vineyard. We couldn't agree more – and we see organic methods as the best way to produce the quality and purity of fruit required for those wines. Our 35 acres of vines produce around 20% of all organic grapes grown in the UK and we use them to make an increasingly celebrated range of still and sparkling wines. We believe that the future of English wine is organic. The proof is in the bottle."


Sustainability Assessment
Pioneer (3*)

Oxney Organic Estate sets a high bar. Soil Association certified as organic, sustainability runs deep through their ethos. Norwegian founder Kristin has clearly done her research, right down to exploring more sustainable cap management in the fermentation process through to the type of solvent used to stick recycled labels to bottles. Vines are cared for by hand and all grapes are hand picked. Wines are made on-site with state of the art kit ensuring proper temperature control and gentle pneumatic pressing, which is combined with a low-intervention approach which favours wild ferments, no filtration and minimal use of SO2. The estate generates its biomass heat for its winery operations using wood chip sourced from their own coppiced woodland.
The full low-down
White | Sparkling | 75cl | 12% ABV | SO2 42mg/L
Recognition: Silver Medal, Decanter; Silver Medal, Wine GB
Cellaring: Ready to drink now.
Vinification: Part malolactic conversion; 50% fermented and aged in old Burgundy barrels to add complexity. 36 months on lees and 3 months on cork.

Made from Chardonnay grapes hand- picked early- to mid-October 2018. Each parcel was whole-bunch pressed and fermented separately. Part malolactic conversion; 50% were fermented and aged in old Burgundy barrels to add complexity. The base wines were blended and bottled for the second fermentation in February 2019, before spending a minimum of 36 months on lees and three months on cork prior to release.
Vineyard last visited by Wine&Earth's co-founders Martin & Toby in Summer 2021. Kristin is a frequent contributor to our London-based events.
Organic - Independently Certified
Vegan - Self-certified
Show more
Why buy from Wine&Earth?
We care. About wine. About the planet. And about providing brilliant service.
Only the best quality wines, as selected by top sommeliers, make it into our portfolio.
Our sole focus is on ethical producers who nurture the land for today and for the future.
We offer free carbon-neutral delivery to your door when you spend £150 or more.
Proud to be rated "Excellent" by our customers on TrustPilot (average rating: 5 stars).
If you're ever unhappy about the quality, we'll send you a replacement bottle for free.
Quality Organic Wines
At Wine&Earth we specialise in curating eco-friendly wines from independent producers around the world. In this collection, we feature our delicious certified organic wines and biodynamic wines.