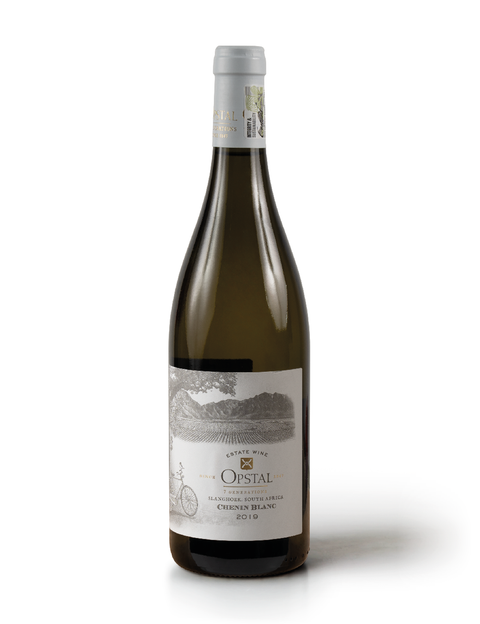 Opstal Estate
Opstal Estate Chenin Blanc 2021
Slanghoek, Breede River Valley, South Africa
100% Chenin Blanc | 13% ABV
We are proud to offer this South African white wine made from 100% Chenin Blanc grapes which is the most widely planted variety on Opstal and very much their cultivar of choice – both on the farm and in their glasses. This wine shows the classic Chenin combination of freshness and concentration, which makes it attractive and versatile.
Tasting Notes
It has a great balance of zippy freshness to go with its aromatic complexity. Attractive aromas of pineapple, pear and citrus are well held together with a subtle spice and leesy complexity from the 6 months that a component of this wine spent in large French oak Foudres.
Service & Food Pairing
Service: Serve slightly chilled at 8-12 ̊C.

Food Pairing: Excellent with poultry, pasta in white sauce, cheeseboard, pork and vegetarian dishes.
Meet the Winemaker
From the winemaker Attie Louw "I am the winemaker at our family wine estate in the Slanghoek Valley, about 1 hour's drive northeast of Cape Town. It's only in the last 10 years though since I joined the business with my dad that we have started to excel in making site specific wines where we have a high risk, high reward approach.

I have a great love for Chenin blanc and believe it is undoubtedly the variety we do best in SA and that it should be our calling card in the world. I also have a great passion for our terroir in Slanghoek and my aim is to show (mainly) Chenin (and other wines) from our valley specifically.

One thing I've learned in the years growing up and working in the wine industry is that wine as a product, the making thereof or the people behind it should not be taken too seriously and the keyword for me in my winemaking philosophy is drinkability."


About the Vineyard & Estate
The 100 hectare Opstal Estate's rich history dates back to 1847 when JC Rossouw acquired the farm De Opstal bij de Fonteine.

Like a rocky crown, magisterial mountains circle the Breedekloof Wine Valley, effectively trapping its own climate inside the soaring peaks. Through this the Worcester Fault has pushed up hills of weathered sandstone and granite, crumbling into river pebbles and ancient layers of sedimentary minerals. Long and wide, the valley is carved through with the life-giving Breede River and its tributaries, from which first sprang agriculture in this isolated place.

Winemaking here is informed by this all-important river, antediluvian geology and the imposing mountains, which ensure high diurnal swings and slow ripening conditions for distinct wines that have a sun-imbued richness balanced by an inimitable stony freshness. Thirty families currently permanently live and work at Opstal.
Sustainability Assessment
2* (Moving on up)

Opstal Estate, established in 1919 and located in Breedekloof, South Africa, has a strong commitment to both environmental and social sustainability. The estate has recently adopted regenerative farming practices, emphasising the reduction of herbicides through mechanical weed control and investing heavily in composting to improve soil health. Their strategy includes composting grape skins, old vines, and poles, combined with chicken manure, which is reintroduced to the vineyard. They've also implemented biological pest control, releasing indigenous bugs to combat infections, a practice that has shown significant results over the past three years. Regarding environmental impacts, while the vineyard has faced challenges from unusually wet weather conditions, canopy management practices are in place to prevent grape rot. Their approach to biodiversity emphasizes habitat preservation, native plant promotion, and involvement in local conservation projects. On the social sustainability front, Opstal Estate actively engages with the local community, initiating projects and collaborating with local organisations. A majority of their blue-collar staff earn above the minimum wage, and many employees and their families live on the farm. The estate also prides itself on inclusivity, with strong female representation in its leadership and significant contributions from under-represented demographics.
The full low-down
White | Still | 75cl | 13% ABV
Vinification: The grapes were crushed, destalked and pressed after 8 hours of skin contact. They used a spontaneous fermentation method which included 60% in large French oak vessels called Foudre, and 40% in concrete and stainless steel. There was 8 months maturation on the fermentation lees with the oak component finishing malolactic fermentation.
Why buy from Wine&Earth?
We care. About wine. About the planet. And about providing brilliant service.
Only the best quality wines, as selected by top sommeliers, make it into our portfolio.
Our sole focus is on ethical producers who nurture the land for today and for the future.
We offer free carbon-neutral delivery to your door when you spend £150 or more.
Proud to be rated "Excellent" by our customers on TrustPilot (average rating: 5 stars).
If you're ever unhappy about the quality, we'll send you a replacement bottle for free.
Quality Organic Wines
At Wine&Earth we specialise in curating eco-friendly wines from independent producers around the world. In this collection, we feature our delicious certified organic wines and biodynamic wines.