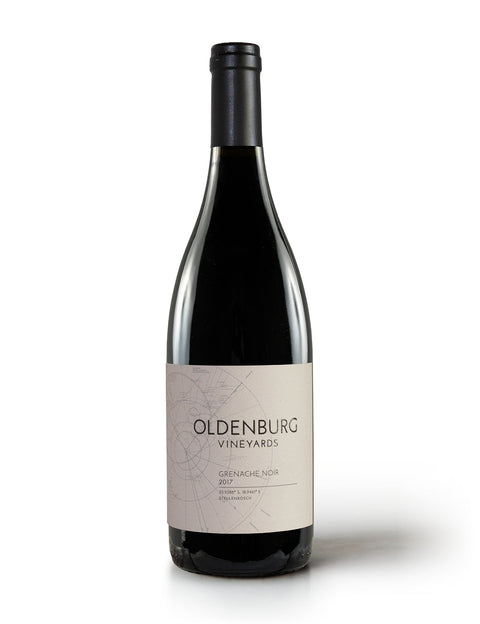 Oldenburg Vineyards
Oldenburg Vineyards Grenache Noir 2017
Stellenbosch, South Africa
100% Grenache | 14.5% ABV
Discover this South African red wine made from 100% Grenache grapes in the Stellenbosch region. This wine offers an intricate display of almonds, marzipan, fennel, and raspberries before finishing with spice and vanilla. This is both gentle and mouth-watering. A delicious wine to savour as it opens up nicely in the glass!
Tasting Notes
A delightfully playful wine with a bright ruby colour in the glass. The nose displays subtle red fruit notes of redcurrant and grapefruit zest, along with a gentle hint of strawberries, cream, and vanilla. A further note of complexity is added to the wine with slight hues of red peppercorns and nutmeg, bringing a touch of spice to the charismatic nose. The tannin is ever so slight and lightly chalky, which is framed by the zesty and juicy acidity.
Service & Food Pairing
Service: Enjoy slightly chilled at 12-20°C.

Food Pairing: Excellent with beef, game, lamb, pasta in tomato sauce, poultry and vegetarian dishes.
Meet the Winemaker
Winemaker Nic van Aarde joined the winery in 2018. A business and commerce graduate turned winemaker, Nic has an extensive record of successful harvests across the globe, spanning regions such as New Zealand, France, Australia and California. Residing on the farm alongside his wife and two daughters, he has an in-depth understanding of the terroir, the distinct vineyard blocks, and the unique manner in which the valley influences the character and quality of the wines produced.

"My mission is to 'let the terroir talk' by allowing our mysterious site to fully show and express itself. This is achieved by picking the grapes at optimal ripeness, minimal manipulation in the cellar and gentle extraction to produce balanced, elegant wines" says Nic.
About the Vineyard & Estate
Situated in an elevated valley of outstanding beauty, the 30 hectare Oldenburg Vineyards is surrounded by a spectacular mountain amphitheatre, only 8 kilometres from Stellenbosch on the road to Franschhoek. At the heart of the farm lies Rondekop – the iconic, round hill which influences the vineyards planted on and around it, creating an extraordinary terroir. The location benefits from the confluence of 8 natural elements allowing the team to make wines that truly reflect their Place.
Sustainability Assessment
1* Up & Coming
Oldenburg Vineyards, situated in the Banghoek Valley near Stellenbosch, South Africa, demonstrates a commitment to sustainability through their unique approach to winemaking and deep understanding of the terroir. The winery emphasises the importance of allowing the terroir to express itself, achieved through optimal grape ripeness, minimal cellar manipulation, and gentle extraction. They are also practising organic viticulture, although they are not certified, and do not use any animal products, making their wines vegan-friendly (uncertified). Their vineyards are strategically placed in an elevated position in the mountains, benefiting from natural elements that contribute to a unique climate, referred to as "The 8 Elements." Oldenburg Vineyards values the quality of their wines and the protection of their environment. They take pride in their ancient soils, which provide water retention and deep root penetration. With a focus on natural processes and respect for the land, their aim is to produce exceptional, balanced, and elegant wines. The winery's mission is encapsulated in their dedication to creating "Exceptional Wines from an Extraordinary Place," reflecting their commitment to sustainability and the preservation of their remarkable terroir.
The full low-down
Red | Dry | Still | 75cl | 14.5% ABV
Cellaring: Ready to drink now.
Vinification: Grapes were picked by hand from 14-year-old bush vines on granitic soil at 410m above sea level. Bunches and berries were meticulously sorted. 1/3rd whole bunch and 2/3rd whole berry fermentation. Wild fermented in a stainless-steel tank with punch-downs and pump-overs 1-2 times per day. The wine was basket pressed and malolactic fermentation took place in barrels. The wine was then matured for 16 months in old 300L French oak barrels.
Organic - Self-certified
Vegan - Self-certified
Why buy from Wine&Earth?
We care. About wine. About the planet. And about providing brilliant service.
Only the best quality wines, as selected by top sommeliers, make it into our portfolio.
Our sole focus is on ethical producers who nurture the land for today and for the future.
We offer free carbon-neutral delivery to your door when you spend £150 or more.
Proud to be rated "Excellent" by our customers on TrustPilot (average rating: 5 stars).
If you're ever unhappy about the quality, we'll send you a replacement bottle for free.
Quality Organic Wines
At Wine&Earth we specialise in curating eco-friendly wines from independent producers around the world. In this collection, we feature our delicious certified organic wines and biodynamic wines.