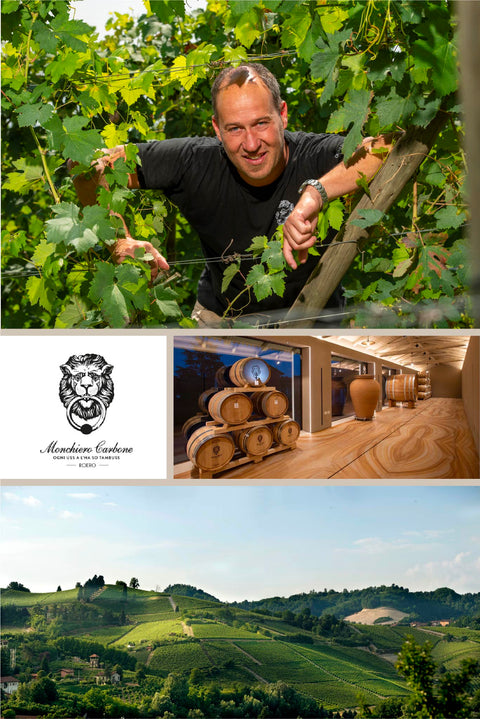 Monchiero Carbone
Recit Arneis Roero 2022
DOCG Roero Arneis, Piedmont, Italy
100% Arneis | 13.5% ABV
We are proud to offer this Italian white wine made from 100% Arneis grapes in the Piedmont region of Italy. "ReCit " in the Piedmontese dialect means "little King". This Recit is the perfect blend between Arneis' sumptuous palate and the vineyards' minerality. Lively with notes of pear, lemongrass, sugarloaf pineapple, and a pretty saline finish. A succulent beauty.
Tasting Notes
On the nose it stands out for its intense and engaging aromas of ripe fruits (apple and pear), enriched with hints of almond. On the palate, it displays a mouth-filling entry, packed with soft and sensual tactile sensations, followed by an intense - though never flabby - feel; a full, dry finish.
Service & Food Pairing
Service: Serve chilled at 8-10°C.

Food Pairing: Excellent with cheese, fish, pasta in creamy sauce, poultry, shellfish and vegetarian dishes.
Meet the Winemaker
Francesco Monchiero is the winemaker for the vineyard.
"I am really lucky as an oenologist to have been born in a special region like Roero, because here I was able to experience both vinifications of red and white native grapes: Nebbiolo and Arneis! in Piedmont the great elegance of Nebbiolo-based red wines has always been recognized, while for the white Roero Arneis it was a completely new path to follow for me when I started my career: this has stimulated me a lot to improve my skills and discover all the secrets of white winemaking in a red wine world like Piemonte!"
About the Vineyard & Estate
The winery is located in Piedmont, specifically in the
geographical area of Roero, between Langhe and Monferrato, in the heart of the wine region, now recognized as UNESCO World Heritage. The landscape is unique and it features a succession of rolling hills until you reach the waters of the river Tanaro. Your eyes feast on a rapid sequence of landscapes, from the wild beauty of the hamlets to the jagged crests; from the 35 hectares of orderly vineyards to the chestnut and hazelnut trees, and orchards in bloom. The soil here is clayey-calcareous, generally light, and, in some parts, rich in sand.

250,000 years ago lay the bed of an ancient sea, which has now retracted, leaving stratifications of shell, sea urchin, and fish fossils behind. This is where our vines have their roots: this is the birthplace of our wines.
The full low-down
White | Still | 75cl | 13.5% ABV
Recognition: 2021: 90 points James Suckling
Cellaring: Ready to drink now.
Why buy from Wine&Earth?
We care. About wine. About the planet. And about providing brilliant service.
Only the best quality wines, as selected by top sommeliers, make it into our portfolio.
Our sole focus is on ethical producers who nurture the land for today and for the future.
We offer free carbon-neutral delivery to your door when you spend £150 or more.
Proud to be rated "Excellent" by our customers on TrustPilot (average rating: 5 stars).
If you're ever unhappy about the quality, we'll send you a replacement bottle for free.
Quality Organic Wines
At Wine&Earth we specialise in curating eco-friendly wines from independent producers around the world. In this collection, we feature our delicious certified organic wines and biodynamic wines.