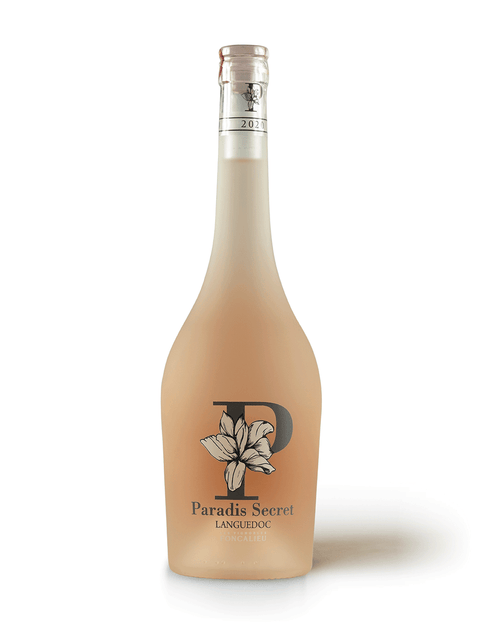 Vignobles Foncalieu
Paradis Secret Rosé 2020
IGP Pays d'Oc, Languedoc, France
Blend: Syrah, Grenache, Carignan | 13.5% ABV
Many people only seek out Provençal rosés when in fact, the Languedoc generally gives better value. This is particularly true for a wine like Paradis Secret. Exuding a deliciously juicy palate with layers and chiselled, mineral feel, this is a notably stylish rosé from the Vignobles Foncalieu cooperative.
Tasting Notes
Displaying a poised fresh nose, the 2020 reveals nuances of succulent nectarine, sweet mandarin, zesty lime and white flowers. Its graceful mouthfeel leads to a clean, chiselled finish. This is a rosé of grace and beauty, lovely from inside out.
Service & Food Pairing
Service: Serve chilled at 10°C.

Food Pairing: A great accompaniment to cheese, pork, poultry, shell-fish and vegetarian dishes.
About the Vineyard & Estate
Les Vignobles Foncalieu is a union of 650 cooperatives anchored in the heart of the Languedoc. Their vineyard landscape stretches across 4000 hectares situated between the sea, the mountains and the sun-caressed plains and include such incredible sites such as the medieval fortified Cité de Carcassonne and two UNESCO World Heritage Sites. With such diversity, their winegrowers represent a number of different wines and appellations and enable them to unveil the potential of each terroir.
The full low-down
Rosé | Still | 75cl | 13.5% ABV | Contains Sulphites
Cellaring: Ready to drink now.
Vinification: Traditional in rosé. Direct pressing. Cold static clarification. Stabulation of juices and mud to develop aromas. Alcoholic fermentation in temperature controlled, stainless steel vats.
Vegan - Independently Certified
Why buy from Wine&Earth?
We care. About wine. About the planet. And about providing brilliant service.
Only the best quality wines, as selected by top sommeliers, make it into our portfolio.
Our sole focus is on ethical producers who nurture the land for today and for the future.
We offer free carbon-neutral delivery to your door when you spend £150 or more.
Proud to be rated "Excellent" by our customers on TrustPilot (average rating: 5 stars).
If you're ever unhappy about the quality, we'll send you a replacement bottle for free.
Quality Organic Wines
At Wine&Earth we specialise in curating eco-friendly wines from independent producers around the world. In this collection, we feature our delicious certified organic wines and biodynamic wines.