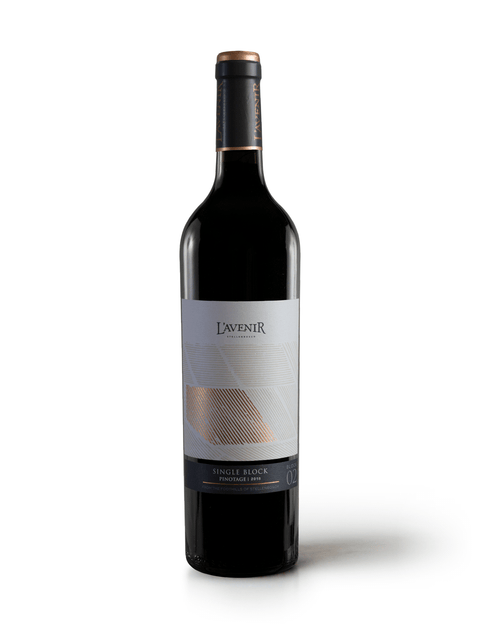 L'Avenir Estate
Single Block Pinotage 2018
Stellenbosch, South Africa
100% Pinotage | 14% ABV
We are proud to present this south African red wine made from 100% Pinotage grapes. This is a bigger styled Plottage that offers impressive layers. But more than fruit, it also offers appealing meaty and spicy flavours without really delving into the typical South African smoke. A very nice Pinotage that is a selection of their finest barrels which remains stylish within its concentrated core.
Tasting Notes
The Single Block Pinotage offers a symphony of potpourri, blackberry coulis and hints of dark chocolate on the nose. The palate is generous and complex with fresh cherries and grilled meat.
Service & Food Pairing
Service: Serve at 15-20°C.

Food Pairing: Excellent with beef, lamb, pasta in tomato sauce, poultry, pork, and vegetarian dishes.
Meet the Winemaker
The winemaker Dirk Coetzee was mentored by the legendary Stellenbosch "Pope of Pinotage", Francois Naudé. He specialises in site specific, authentic wines in the most revered winemaking region in South Africa. "L'Avenir is a boutique specialist of modern Stellenbosch Chenin Blanc and Pinotage. Showcasing the versatility and class of Pinotage by producing single vineyard wines, is my greatest passion and pleasure" he says.
About the Vineyard & Estate
Block 2 vineyard is situated at the core of an exclusive geological vein comprising weathered shale on the highest point of L'Avenir Hill. The first single vineyard wine from Block 2 was produced in 2004. This was the start of one of the most iconic South African wines.
Sustainability Assessment
2 - Moving on Up*

L'Avenir Estate, managed by Edo Heyns, is a family-owned vineyard in Stellenbosch, South Africa, with a history dating back to 1703. The estate covers 70 hectares, with 66% under vine cultivation and 14% preserved as natural woodland.

The vineyard demonstrates a strong commitment to sustainable practices, highlighted by its regenerative approach to viticulture. This includes prioritising soil health, minimising intervention in the winemaking process, and adopting practices that align with environmental sustainability. L'Avenir focuses on producing high-quality wines, particularly Pinotage, aligning with their vision for the future.

In response to challenges like residential expansion and climate change, L'Avenir is proactively expanding their Pinotage plantings. They have received the Sustainable Agriculture certification from IPW and are recognised by Wieta for socially responsible wine production.

A key aspect of L'Avenir's sustainability approach is their involvement in community development. The estate runs the Pebbles After School Care facility, contributing to local education. L'Avenir maintains a balance between environmental care and community support, underlining their holistic approach to sustainability.

With plans to pursue regenerative viticulture certification, L'Avenir Estate continues to advance its sustainable practices, contributing positively to both the environment and the local community.
The full low-down
Red | Still | 75cl | 14% ABV | Contains Sulphites
Cellaring: Drinking well now, will develop over 10-15 years.
Why buy from Wine&Earth?
We care. About wine. About the planet. And about providing brilliant service.
Only the best quality wines, as selected by top sommeliers, make it into our portfolio.
Our sole focus is on ethical producers who nurture the land for today and for the future.
We offer free carbon-neutral delivery to your door when you spend £150 or more.
Proud to be rated "Excellent" by our customers on TrustPilot (average rating: 5 stars).
If you're ever unhappy about the quality, we'll send you a replacement bottle for free.
Quality Organic Wines
At Wine&Earth we specialise in curating eco-friendly wines from independent producers around the world. In this collection, we feature our delicious certified organic wines and biodynamic wines.