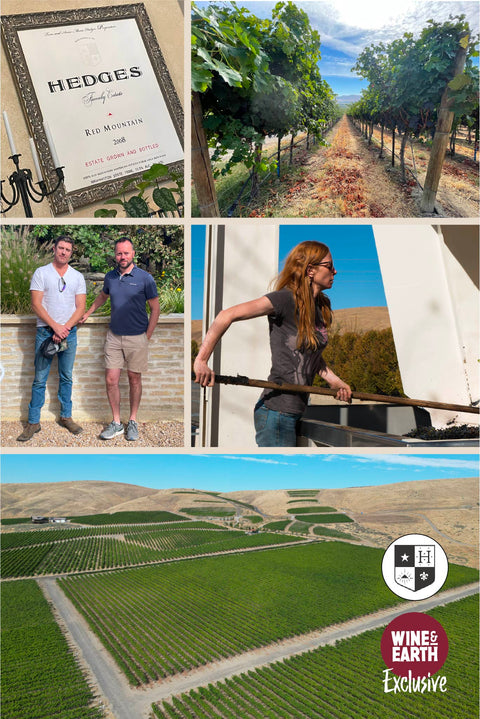 Hedges Family Estate
Estate Red 2020
AVA Red Mountain, Columbia Valley, Washington State, USA
Blend: 55% Cabernet Sauvignon, 26% Merlot, 9% Syrah, 6% Cabernet Franc, 3% Malbec, 1% Petit Verdot | 13.5% ABV
If you like a good claret, you'll love this wonderful fresh Bordeaux-style blend from the renowned and award-winning Hedges Family Estate in Washington State, USA. This organic and biodynamic fine wine is a real treat, rated outstanding with 90 points by Decanter, and a core listing in a number of Michelin starred restaurants across the United States. Uncork it now, or keep it for up to 10 years.
Tasting Notes
Reddish black bramble fruits, red currants, bright cinnamon, clove, vanilla and a touch of chili pepper, cocoa, toasted seeds, and a touch of earthy graphite. Nice structure, good length and lovely flavors of fruit, spice, and earth. This wine has a classic Hedges style with a modern touch, very enjoyable now and will age for years to come.
Service & Food Pairing
Serve at 16-18 °C.
Cabernet, Merlot and Syrah are all known for producing full-bodied, tannic styles of wine, so it is no surprise that a blend of these should have a similar style. Will work with a full flavoured cheese-based dish, as well as red meats which are high in fatty proteins - the tannins in this wine will bind with the proteins of the meat and clear your palate making your mouth ready for the next bite.
Meet the Winemaker
Growing up, Sarah Hedges Goedhart, daughter of Tom and Anne-Marie Hedges, the founders of Hedges Family Estate in Washington State's Red Mountain AVA, didn't envision a career in winemaking. Despite spending school breaks in the family vineyards, she initially found the labor-intensive and tedious aspects of winemaking unappealing. She aspired to be a veterinarian. However, her journey took an unexpected turn when her boyfriend (now husband) convinced her to try making wine in their apartment. Fascinated by the fermentation process, she was drawn back to her winemaking roots.

After gaining experience in Sonoma, Goedhart returned to Hedges Family Estate as an assistant winemaker in 2006. Today, as head winemaker, she finds joy in crafting wines that tell stories about her family, the land, and the connections fostered through the joy and curiosity that wine brings. She believes in making wines with depth and subtlety, focusing on sense of place and compatibility with food, rather than simply aiming for high scores.

Goedhart is committed to biodynamic farming practices, aiming for proactive vineyard care that nurtures growth and reflects the land's natural ecosystem.

Sarah finds winemaking both rewarding and challenging. The unpredictability of each harvest and the constant balancing act of managing various aspects of the business keep her engaged. Balancing work, family, and travel presents its own difficulties, as she's an introvert by nature.

Ultimately, Sarah encourages wine lovers to seek out wines with stories that reflect history, responsible farming, and a connection to the land. She emphasises the importance of understanding where wines come from and the impact of supporting small wineries with meaningful narratives.
About the Vineyard & Estate
Hedges Family Estate is an authentic family business, run by some seriously good people, making some seriously good wine (in the old world Rhone and Bordeaux styles), based in the Columbia Valley in Washington State, USA.

Co-founder Martin visited the Hedges Family Estate in September 2022. Here's his write-up:

Arriving at Red Mountain, in the southeast corner of Washington State along the Yakima river, I immediately fell in love with the near-desert terraIn. I could also see why it would make for a great place to grow organic grapes: the area has an average yearly rainfall of just 10cm, helping growers avoid the issues caused by too much moisture; growing season daytime temperatures average 32°C, with nighttime dropping below 10°C, helping to preserve acid levels in the grapes; and southerly facing gentle slopes make for ideal growing conditions.

I spent the best part of day with Christophe Hedges and his wife Maggie. I immediately felt at home, amongst friends. We enjoyed some outstanding wines while connecting over shared cultural and political references. We spent a lot of time talking about how to adapt to a changing climate. And I heard the story of how Hedges Family Estate came into being.

In 1976 Washington State-born Tom Hedges married Annie-Marie Liégeois in her hometown of Ossey-les-Trois-Maisons, in Champagne, France. They subsequently moved to the USA and established Hedges Cellars in 1987 and then purchased 50 acres of land on Red Mountain, where they planted 40 acres of Bordeaux grape varieties.

Their vision was to make high quality new world wines in the old world style (there is a strong French influence here thanks to Annie-Marie), while preserving the flavour of the local terroir. An exemplar of this is that they age their wines in "neutral" barrels, using aged European oak and not new American oak (as is often preferred by Californian wineries). We laughed together as I joked "you don't want your wine to taste like a Bourbon, do you?". In 1990 they won the first of what was to become a series of gold medals for their excellently crafted wines.

In 1995 they began building a French-style chateau - which I had the pleasure to visit. Meantime, Christophe and Sarah, children of Tom and Anne-Marie, came of age and joined the family business, (literally) rolling up their sleeves within the Estate - Christophe on both sales and stone masonry to enlarge the Estate, and Sarah in winemaking. The business has continued to expand, adding further vineyards along the way, with Domaine Magdalena, set up by Maggie and Christophe Hedges, just across the road. There is a genuine family legacy in the making here.

With 70 hectares, Christophe says "we're just about large enough to have our own ecosystem like a French Chateau business" with all wines estate-grown, aged and bottled on site. These guys know what they're doing, and they're shaking things up in the industry. For example, Hedges was one of the first US estates (together with Ridge Estate in California) to fight the "stuffy and rigged" public reviews and wine point scoring systems. They care about doing things the right way.

"So how do you market yourselves?" I asked. The response: "by making great wine". In my own view this is an understatement. The wines are both exceptional and ethical, in equal measure. Think of Hedges as "The Ridge Estate (California) of the North West".

In summary, this is an authentic family business, run by some seriously good people, making some seriously good wine.

In their own words:

"Led by a passion for authenticity and a deep connection to the land we call home, the Hedges Family Estate blends rich cultural upbringings and a shared love for creating beautiful wine, fostering a true homegrown approach to farming and viticulture. The unique geography of Red Mountain speaks volumes… The language of this distinct land translates to viticulture with the same character and complexity of the grapes themselves. We consider our collection of wines a collaboration between people and place; a true expression of origin and the unified culture of farm and family, for generations to come."

Wine&Earth is proud and honoured to be able to work with the Hedges family to import these wonderful sustainable fine wines to the U.K. We are confident you'll fall in love with them, as we have.
Sustainability Assessment
3* (Pioneer)

These guys are serious about farming their land with consideration and respect for the planet. They don't believe that being merely "organic" is a high enough bar in the USA due to the local rules which allow the use of more interventions than they think are necessary. So they have set the bar higher, and farm using biodynamic methods, with Demeter certification. Rather than resorting to chemical solutions, Hedges uses nature. For example, roaming chickens are deployed to control the predatory cutworm population. Planting, pruning and harvesting is done by hand, cultivating a connection to the crop. No commercial yeast is added to the wine during fermentation, resulting in a wine that expresses the terroir it came from.

A strong focus for the family is climate change, which was referenced many times during our visit. They are actively engaged in mitigation and on adaptation, and are experimenting with planting grapes which are native to hotter, more southerly environments (Portugal), to future proof the business. Although it has a similar latitude to the Loire, Red Mountain has very low precipitation – this is mountain desert land. Some modest irrigation is thus essential for vine health, which is carried out within strict water allocations from the local Columbia river. This also has the advantage of allowing them to optimise the growth of their grapevines.
The full low-down
Red | Still | 75cl | 13.5% ABV | Contains Sulphites
67,212 bottles produced.
As listed by: Multiple Michelin Starred Restaurants across the USA.
Recognition: 92 points from James Suckling. Robert Parker awarded Hedges the Green Emblem in 2022 in recognition of their long-term commitment to sustainability.
Cellaring: This wine, like other Red Mountain wines, is best now with food, but will age well, probably peaking in 5-10 more years.
Vinification: Grapes are from Red Mountain AVA vineyards within a two-mile radius of the winery: Hedges, Bel' Villa, Les Gosses, Magdalena, and Jolet. The wine was destemmed and partially crushed into stainless steel fermenters where it was pumped over twice daily until desired tannin extraction was achieved. It was then pressed to barrels where it underwent malo-lactic fermentation, then racked off lees and 100% barrel aged for 18 months in 51% new oak, American (62%) and French oak (38%).
Harvest notes: 2020 was a warm growing season overall and while it was nowhere near the hot vintage of 2015, we did see some drier conditions. This dry, warm year coupled with lower yields let us with a crop that was earlier to mature. 2020 left us with many uncertainties, but from what we have seen of this vintage so far, the resulting wines are aromatically intense with palatesthat are showing a lot of balance and restraint that will only become more complex and improve with time.
Organic - Independently Certified
Biodynamic - Independently Certified
Show more
Why buy from Wine&Earth?
We care. About wine. About the planet. And about providing brilliant service.
Only the best quality wines, as selected by top sommeliers, make it into our portfolio.
Our sole focus is on ethical producers who nurture the land for today and for the future.
We offer free carbon-neutral delivery to your door when you spend £150 or more.
Proud to be rated "Excellent" by our customers on TrustPilot (average rating: 5 stars).
If you're ever unhappy about the quality, we'll send you a replacement bottle for free.
Quality Organic Wines
At Wine&Earth we specialise in curating eco-friendly wines from independent producers around the world. In this collection, we feature our delicious certified organic wines and biodynamic wines.