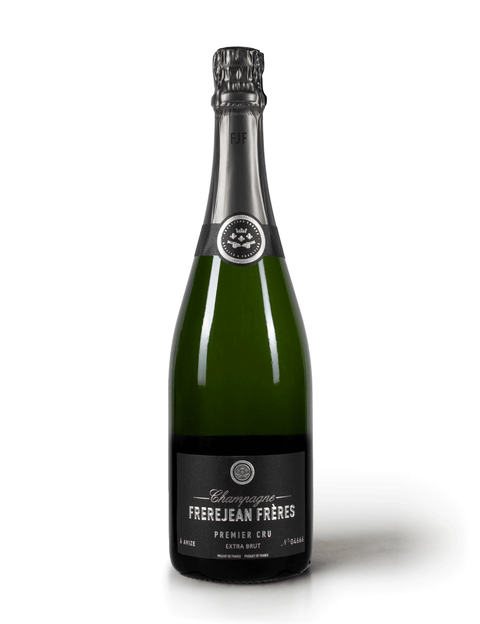 Frerejean Freres
Frerejean Frères Extra Brut Premier Cru NV
AOC Champagne, France
Blend: 50% Chardonnay, 50% Pinot Noir
We are delighted to offer this Extra Brut wine made from Chardonnay and Pinot Noir grapes picked on old vines over 40 years old in Premier and Grand Cru vineyards of the
Côte des Blancs in Champagne. This champagne remains tense thanks to the Pinot Noir which awakens the wine and frames it with a slight hint of salinity and energetic acidity. A true delight!
Tasting Notes
On the nose, noticeable presence of a perfect balance. A Chardonnay with shy aromas of toasted almonds, tempered
by a mineral and tense Pinot noir.

On the palate, at first the Chardonnay shows notes of candied apples and pears, evolving with aromas of a home-made brioche, which are all signs of prolonged aging in the cellar.
Service & Food Pairing
Service: Serve chilled at 8-10°C.

Food Pairing: This can be enjoyed simply as an aperitif, or with a Risotto, as well as some aged Iberico Ham.
Meet the Winemaker
About the Vineyard & Estate
Maison Frerejean Frères was founded in 2005 by three brothers in the Grand Cru village of Avize, Champagne. Vines are over 40 years old, with the Grand Cru cuvée using grapes from vines dating back to 1926. The chalky soil is special here and the roots have to hunt for water and nutrients which drives good acidity. Originally conceived as a passion project to produce small-batch wines for friends and family, over time production has grown to over 130,000 bottles/year. The aim is not to reach 300,000 bottles of production, maintaining exclusive quality. The family motto is: "We take our time to make a champagne for people who can take the time to drink it". The result is a collection of very special champagnes and we love this mindful approach to appreciating quality sustainable wine.
Sustainability Assessment
The Frerejean Frère ethos is one of craftsmanship and attention to detail, with the aim of ensuring the vines can express the terroir as perfectly as possible with minimal intervention in the vinification process. This means natural treatments, allowing nature to do what it does best. Low sulphites, low addition of sugar (thanks to later harvesting) and longer aging. Although not certified organic, this Champagne House avoids chemical treatments and aims for a fully natural approach to farming. Flowers are left to grow, and nature is left to take its course. This is a great sustainable approach to winemaking.
The full low-down
White | Sparkling | 75cl | 12% ABV | Contains Sulphites
Vinification: Non Vintage, Tête de cuvée, Malolactic fermentation, Resting at least 6 months in cellar after disgorgement, Extra Brut.
Show more
Why buy from Wine&Earth?
We care. About wine. About the planet. And about providing brilliant service.
Only the best quality wines, as selected by top sommeliers, make it into our portfolio.
Our sole focus is on ethical producers who nurture the land for today and for the future.
We offer free carbon-neutral delivery to your door when you spend £150 or more.
Proud to be rated "Excellent" by our customers on TrustPilot (average rating: 5 stars).
If you're ever unhappy about the quality, we'll send you a replacement bottle for free.
Quality Organic Wines
At Wine&Earth we specialise in curating eco-friendly wines from independent producers around the world. In this collection, we feature our delicious certified organic wines and biodynamic wines.