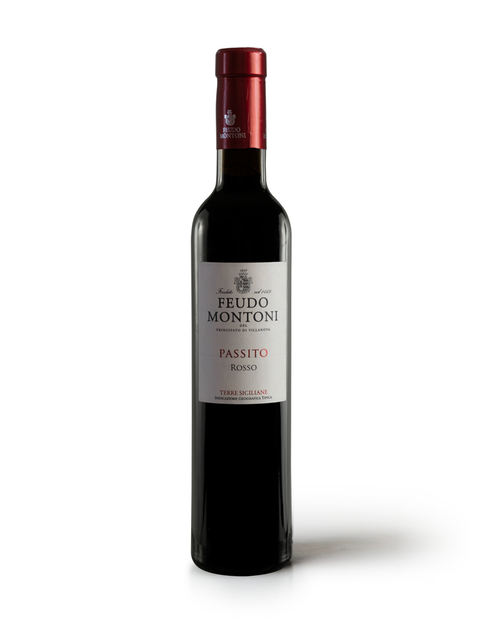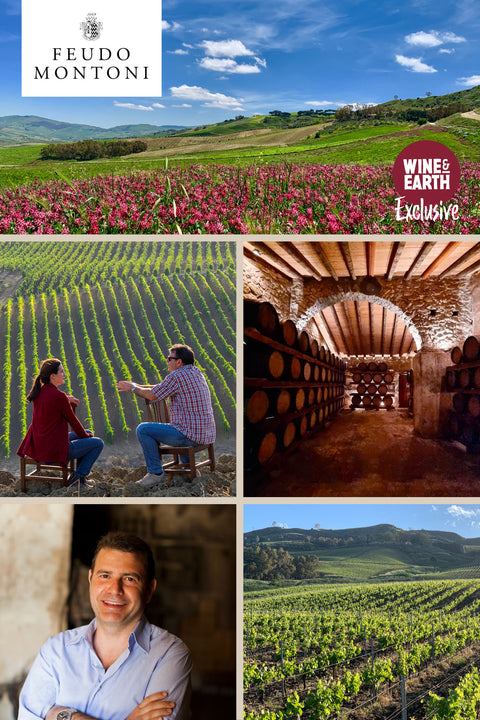 Feudo Montoni
Passito Rosso NV (Half)
IGT Terre Siciliane, Sicily, Italy
Blend: Nero d'Avola, Perricone | 14.0% ABV
Discover this unique dessert wine produced from dried Nero d'Avola and Perricone grapes. This one comes from a solera-like system so each year some new wine is added after some of the aged wine is removed. So there is no "vintage" since many are blended together. The result is an intoxicating combination of sweet fruit and earthy notes almost like a aged red. Absolutely fascinating.

Tasting Notes
On the nose, this intense dessert wine from Feudo Montoni offers aromatic notes of dried cherries, figs, cocoa, tobacco and warm spices. On the palate there are hints of chocolate, velvety tannins and an enveloped acidity that balances the sweetness. So intriguing.

Service & Food Pairing
Service: Serve at 12-14ºC.

Food Pairing: Excellent with Game, spicy cheeses, dark chocolate desserts, dried figs, Sicilian almond torrone.

Meet the Winemaker
Feudo Montoni is one of the most unique properties in Sicily. Located in an area nicknamed the "The Island of Montoni", the farm stands on its own in the centre of Sicily surrounded by many hectares of rolling wheat fields, which once supplied the Roman Empire. Their soils have had vineyards for over 600 years and today owner and winemaker Fabio Sireci continues to organically cultivate a number of indigenous varieties over his 44 hectares of vineyards.

About the Vineyard & Estate
Feudo Montoni is located at 750 meters a.s.l., in the heartland of Sicily at Contrada Montoni Vecchi, on the eastern side of a mountain village, Cammarata (Agrigento). South-eastern Sicily has a latitude lower than the highest point of Africa and is characterized by a hot climate with strong winds that arrive from the African desert. Montoni's vines are situated on a hard mountain slope, all east facing

The full low-down
Sweet | Still | 37.5cl | 14% ABV
Recognition: Passito Rosso (N.V): 91 Falstaff,O.Kiem 2021, 94 A. Galloni, E. Guido 2021, 94 A. Galloni, I.D'Agata 2019
Vinification: Slow fermentation with a progressive addition of sun-dried grapes. 7 months in wood barrels, 12 months in bottle.

Organic - Independently Certified
Why buy from Wine&Earth?
We care. About wine. About the planet. And about providing brilliant service.
Only the best quality wines, as selected by top sommeliers, make it into our portfolio.
Our sole focus is on ethical producers who nurture the land for today and for the future.
We offer free carbon-neutral delivery to your door when you spend £150 or more.
Proud to be rated "Excellent" by our customers on TrustPilot (average rating: 5 stars).
If you're ever unhappy about the quality, we'll send you a replacement bottle for free.
Quality Organic Wines
At Wine&Earth we specialise in curating eco-friendly wines from independent producers around the world. In this collection, we feature our delicious certified organic wines and biodynamic wines.