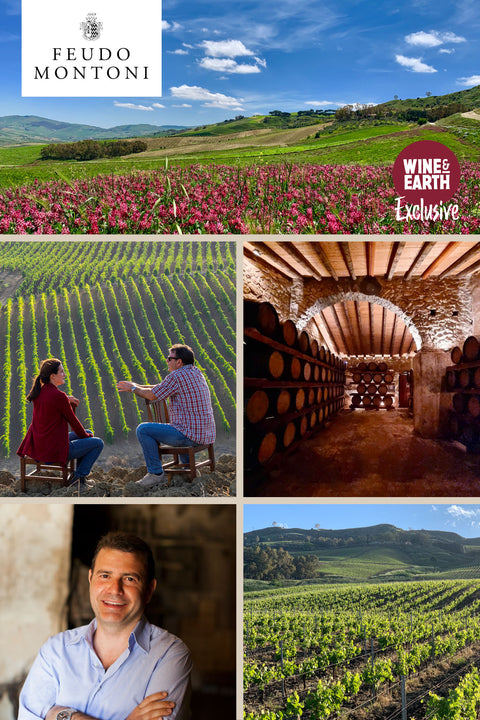 Feudo Montoni
Grillo Timpa 2020
DOC Sicilia, Sicily, Italy
100% Grillo | 13.0% ABV
We proudly office this delicious white wine made from Grillo grapes.Grillo is becoming one of the "It" grapes of Italy. It was used for many years to make Marsala, but its dry versions are some of the islands most compelling, with its aromatic personality and freshness. It is worth seeking out, particularly for enthusiasts of aromatic whites like Sauvignon Blanc or Albariño.

Tasting Notes
The nose has strong notes of white peach and loquat, with floral aromas of Sicilian Spanish broom, jasmine and almond flowers on the finish. On the palate, it is fresh, persistent and has a remarkable acidity that is well-balanced with the alcohol.

Service & Food Pairing
Service: Serve chilled at 12-14ºC.

Food Pairing: Good with seafood, white meat, and fresh cheese.

Meet the Winemaker
Feudo Montoni is one of the most unique properties in Sicily. Located in an area nicknamed the "The Island of Montoni", the farm stands on its own in the centre of Sicily surrounded by many hectares of rolling wheat fields, which once supplied the Roman Empire. Their soils have had vineyards for over 600 years and today owner and winemaker Fabio Sireci continues to organically cultivate a number of indigenous varieties over his 44 hectares of vineyards.

About the Vineyard & Estate
Feudo Montoni is located at 750 meters a.s.l., in the heartland of Sicily at Contrada Montoni Vecchi, on the eastern side of a mountain village, Cammarata (Agrigento). South-eastern Sicily has a latitude lower than the highest point of Africa and is characterized by a hot climate with strong winds that arrive from the African desert. Montoni's vines are situated on a hard mountain slope, all east facing

The full low-down
White | Still | 75cl | 13% ABV
Recognition: Grillo Timpa 2020: 91 K.O'Keefe, Wine Enthusiast, 90 Falstaff,O.Kiem
Vinification: Fermentation takes place in cement containers, in contact with the skins for a quarter of the fermentation process. Sur lies with batonnage in cement containers for 6 months.

Organic - Independently Certified
Why buy from Wine&Earth?
We care. About wine. About the planet. And about providing brilliant service.
Only the best quality wines, as selected by top sommeliers, make it into our portfolio.
Our sole focus is on ethical producers who nurture the land for today and for the future.
We offer free carbon-neutral delivery to your door when you spend £150 or more.
Proud to be rated "Excellent" by our customers on TrustPilot (average rating: 5 stars).
If you're ever unhappy about the quality, we'll send you a replacement bottle for free.
Quality Organic Wines
At Wine&Earth we specialise in curating eco-friendly wines from independent producers around the world. In this collection, we feature our delicious certified organic wines and biodynamic wines.