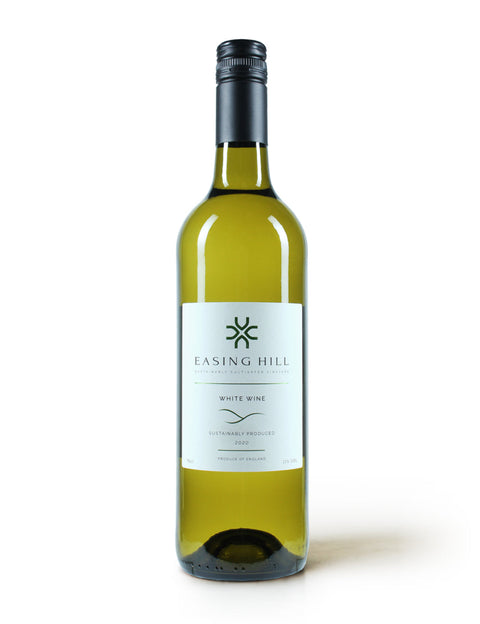 Easing Hill Vineyard
Easing Hill Vineyard Still White Wine 2020
PDO England, Worcestershire, England
Blend: Seyval Blanc, Phoenix | 11% ABV
We are delighted to present this English white wine made with a blend of Seyval Blanc, and Phoenix grapes. England has done particularly well with varietal crossings and hybrids designed to ripen better in cooler climates. This wine is a lovely drop on a summer or spring day which is easy to drink with balanced acidity.
Tasting Notes
This is a dry wine but with a touch of fruit sweetness and offers appealing notes of fresh apples, Muscat grapes, elderflower, white pepper, and barley sugar.
Service & Food Pairing
Service: Serve chilled at 10°C.

Food Pairing: This lovely wine is enjoyable on its own or with chicken, fish and salads, and soft cheese.




About the Vineyard & Estate
The story of Easing Hill Vineyard started 15 years ago when owners, Judith and Tim Davies, planted 400 vines as a hobby on a small area of hillside at their home in Worcestershire. Their first attempt at keeping pet sheep and goats wasn't for them, and they opted for growing vines despite knowing it would be an arduous task as the hillside was so steep and they'd have to cultivate the vines by hand. Their instincts were spot on as they discovered that throughout the ages, their land had already been used for grape growing at least as far back as 1604, but also possibly by the Romans. With the help of their four children, they established their estate, working the vines spread over 2.5 acre land by hand without using any herbicides or insecticides and also managed to produce their own solar electricity. Today they produce three wines including a still rosé, a still white and a sparkling wine.
Sustainability Assessment
1* Up & Coming

Easing Hill Vineyard demonstrates a commitment to sustainable wine production as evidenced by its accreditation (and founding member status) as a Sustainable Vineyard by Wines of Great Britain. The vineyard prioritises the natural environment by promoting wild flora and avoiding the use of herbicides, insecticides, and fungicides. Their steep, well-drained terrain contributes to the robustness of their vines, and the vineyard utilises solar energy in its production processes.

While the vineyard does not hold organic certification, its sustainable practices, such as hand-tending vines and fostering a biodiverse ecosystem, show an appreciation for eco-friendly approaches. Easing Hill Vineyard's history and recent transition to retirement-driven full-time viticulture underline a dedication to low-intervention winemaking.

The full low-down
White | Still | 75cl | 11% ABV | Contains Sulphites
Cellaring: Drinking well now.
Vegan - Self-certified
Organic - Self-certified
Why buy from Wine&Earth?
We care. About wine. About the planet. And about providing brilliant service.
Only the best quality wines, as selected by top sommeliers, make it into our portfolio.
Our sole focus is on ethical producers who nurture the land for today and for the future.
We offer free carbon-neutral delivery to your door when you spend £150 or more.
Proud to be rated "Excellent" by our customers on TrustPilot (average rating: 5 stars).
If you're ever unhappy about the quality, we'll send you a replacement bottle for free.
Quality Organic Wines
At Wine&Earth we specialise in curating eco-friendly wines from independent producers around the world. In this collection, we feature our delicious certified organic wines and biodynamic wines.