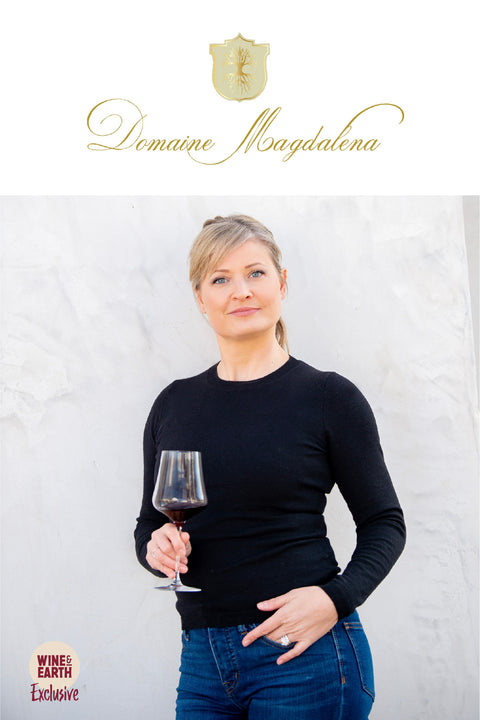 Domaine Magdalena
Domaine Magdalena 2018
AVA Red Mountain, Columbia Valley, Washington State, USA
100% Cabernet Sauvignon | 12.5% ABV
Meet Maggie, a winemaker challenging US norms. She creates a remarkable "Natural" Cabernet Sauvignon... biodynamic grape picking, natural yeast fermentation, 80% neutral barrel aging (15 months) result in an unfiltered, low-alcohol organic wine exuding plum, cassis and peppercorn, to defy New World Cab expectations. Each vintage showcases Maggie's spirit. A favourite of co-founder Rob.
Tasting Notes
On the nose you may notice plum, green peppercorn, cassis and some Rhone-style spice. The palate is accessible, with green peppercorn, cassis, and plum. Not necessarily what you'd expect from a new world Cab, but in a refreshing way.
Service & Food Pairing
Serve between 16-18°C. With a minimal intervention approach, Maggie seeks to find balance as well as a lower alcohol level which is more food-friendly and truly allows the natural fruit to shine through. This youthful Cab will work just brilliantly, ever-so-slightly chilled, on a sunny day as a truly fabulous accompaniment to a barbecue with grilled vegetables and meat. Apply liberally.
Meet the Winemaker
Convention is not vineyard-owner-winemaker Maggie's aim. Having grown up in California, and after marrying Christophe Hedges and moving to Columbia Valley in Washington State, Maggie set about launching her own domaine, right across the road from the Hedges Family Estate. The result is nothing short of counter-revolutionary.

Maggie seeks to bring you the purest untarnished expression of the Cabernet Sauvignon grape, and the distinctive menthol-inducing flavours of the barren Red Mountain AVA terroir. Maggie hand picks the (Demeter-certified biodynamic) grapes 3 weeks before others in the area as she doesn't want the grape to over-ripen and become too concentrated in sugar, which would lead to an overpowering wine. Fermentation is carried out with natural yeast. Ageing is for 15 months in 80% neutral (aged) barrels to maximise oxygenation without overpowering the flavour with oak.

This approach represents a rebellion against West Coast conventional wisdom. The result is a biodynamic, organic and unfiltered wine which is remarkably fresh and crisp. It's also on-trend with a refreshingly low 12.5% alcohol content. This wine displays a raw and wild interpretation of Cabernet Sauvignon, and each vintage has its own expression. So, here is the 2018 Cab. And check out the label…. Vive la counter revolution! This is NOT what you'd expect from a USA Cab. But that doesn't mean it won't be a pure delight.

Top marks to Maggie for this wonderful wine. We're super excited about what's still to come from Maggie's project and we are humbled to be working with such an innovator and trailblazer. Welcome, Maggie, to the Wine&Earth family, and the U.K. wine scene.
About the Vineyard & Estate
Domaine Magdalena is a five acre estate within the Red Mountain AVA in Washington State. Life started out farming grape vines from 2005. In 2014 Maggie decided to start producing her own wine from the vineyard…. 2018 is only the fourth vintage.

Every vintage tells its own story. "Domaine Magdalena tells a story every year and we are eager to share it with fellow enthusiasts."
Sustainability Assessment
3* (Pioneer)

Maggie is serious about farming her 5 acre plot with consideration and respect for the planet and she is pioneering a new way to farm grapes and produce wine sustainably. In Maggie's own words: "We planted the vineyard in 2005 and from the start farmed completely organically. In 2009 we began working toward Demeter Biodynamic Certification which we received in 2011. Organic farming seemed an obvious choice from the very beginning given that we live on the property, are raising small children, and have active pets – the vineyard is quite literally our backyard and we want to live in an eden, not an industrial wasteland.

In addition to farming biodynamically the finished Domaine Magadalena Cabernet Sauvignon is also Demeter Certified Biodynamic, as well as CCOF Organic. Our aim every year is to grow the healthiest fruit we can in a biodiverse ecosystem, crush the fruit, and let it become what it will."
The full low-down
Red | Still | 75cl | 12.5% ABV | Contains Sulphites
7,700 bottles produced.
Vinification: Spontaneous native yeast fermentation. Aged 15 months 80% neutral oak / 20% new oak 100% American oak. Unfiltered/unfined.
Organic - Independently Certified
Biodynamic - Independently Certified
Show more
Why buy from Wine&Earth?
We care. About wine. About the planet. And about providing brilliant service.
Only the best quality wines, as selected by top sommeliers, make it into our portfolio.
Our sole focus is on ethical producers who nurture the land for today and for the future.
We offer free carbon-neutral delivery to your door when you spend £150 or more.
Proud to be rated "Excellent" by our customers on TrustPilot (average rating: 5 stars).
If you're ever unhappy about the quality, we'll send you a replacement bottle for free.
Quality Organic Wines
At Wine&Earth we specialise in curating eco-friendly wines from independent producers around the world. In this collection, we feature our delicious certified organic wines and biodynamic wines.