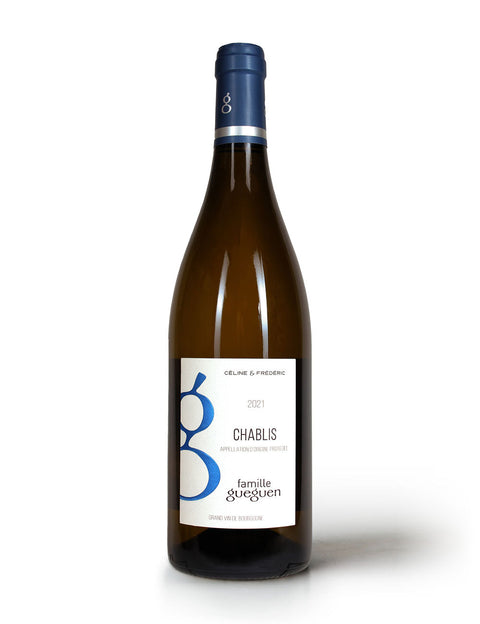 Domaine Gueguen
Chablis 2021
AOC Chablis, Burgundy, France
100% Chardonnay | 12.5% ABV
Delighted to offer this French white wine from Burgundy made of 100% Chardonnay grapes. This Chablis is elegant and pure with a wonderfully delineation core of fruit. While Sauvignon Blanc is more traditional with fresh goat cheese, this would do equally well. Such an enjoyable wine. Almost weightless but with flavour.
Tasting Notes
It reveals notes of lemon, quenette and white flowers associated with discreet hints of white peach and limestone as well as an imperceptible hint of almond. The palate is fruity, well-balanced, silky, racy, aerial and offers a slight acid frame, a slight unctuosity, minerality, gourmandise a swell as a beautiful finesse. In the mouth this wine expresses notes of ripe yellow peach, apricot and slight touches of quince, ripe Williams pear associated with a discreet hint of lemon.

Service & Food Pairing
Service: Serve at 10 – 12°C.

Food Pairing: Excellent with aperitif, oysters, seafood salad, Burgundy snails, and fresh goat cheese.
Meet the Winemaker
Coming from a great lineage of winegrowers, winemakers Céline and Frédéric have used their experience to create their own piece of history in the heart of the Chablis vineyard - a Domaine that produces wines with a breath of freedom.

"At Domaine Gueguen we have chosen to be "artisan" winemakers. We produce real, whole, uncorrected wines with a vintage effect that is the consequence of everything that happens in the vineyards, manifestations of Mother Nature and climate: all our wines are characterized by their freshness and sincerity" says Celine.
About the Vineyard & Estate
The vines are located both in the Chablis vineyard, and in the Auxerrois vineyard a few km from Chablis, made up of 36 hectares of vines. The diversity of all these appellations is a challenge in itself: 51 different climates in very varied terroirs between Chablis, Chichée, Saint Bris, and Irancy. The balance between soil and microclimate is different everywhere.

The Chablisien terroir extends over a Kimmeridgian subsoil formed in the Jurassic era . It has clay-limestone soils which are perfectly suited to the development of the vine in order to have a naturally limited production. Limestones and marls from the middle and upper Kimmeridgian cover the most qualitative sectors of the appellation. This geological ensemble, rich in small fossil oysters (Exogyra virgula), represents the historical delimitation of the Chablis region. The soils can be relatively deep, on marly substrate, or close to the parent rock and made up of small pebbles.
Sustainability Assessment
Wine&Earth Full Sustainability Review Pending.

Domaine Gueguen is a wife and husband partnership project, with a focus on the land, terroir and sustainability running through the ethos of their approach. Following a number of years in organic conversion, vintages from 2023 will be fully certified organic. Since 2018 their vineyards are also certified with the highest score of the HVE (high Environmental Value) scheme with a Level 3 score.
The full low-down
White | Still | 75cl | 12.5% ABV
Annual Production: 40,000 bottles.
Recognition: The Wine Spectator: Chablis 2022 – 90 pts | Decanter: Chablis 2020 – 93pts | Wine Enthusiast: Chablis 2020 – 90pts, Chablis 2019 – 90pts, Chablis 2015 – 90pts, Chablis 2018 – 88pts, Chablis 2014 – 89pts | Burghound Allen Meadows: Chablis 2020 – 88 pts, Chablis 2019 – 87 pts | La Tulipe Rouge, 2021: Chablis 2019 – 3/4 tulips | Andreas Larsson: Chablis 2019 – 90pts | 35th Chablis Wine Competition 2021: Nominated | Decanter 2020: Chablis 2019 – 91pts | BIVB 2019 Prestige Cave Selection: Chablis 2018 | Vinous Neal Martin: Chablis 2017 – 90pts | Jancis Robinson: Chablis 2015: 16/20, Chablis 2014: 15/20 | Chablis Wine Competition 2016: Chablis 2014 – Bronze medal | Red Guide of the Revue des vins de France 2015: Chablis 2013 – 14.5/20.
Cellaring: Ready to drink now, keeps from 3 to 8 years.

Vinification: 1. Mechanical harvest
Direct pressing, cold settling Natural yeasts.
2. Fermentation at Controlled temperature (16-18°C) for the vat.
3. Total alcoholic and malolactic fermentations
4. Aging on fine lees from November to mid-April.
5. Fining and filtration before bottling.
6. Thermoregulation allows fermentation to be carried out at low temperature in order to develop all the aromas. 7. The aging takes place in 100% stainless steel vats to preserve the freshness and fruitiness of the wine (around 10 months).
Vegan - Self-certified
Organic - Undergoing Conversion & Certification
Why buy from Wine&Earth?
We care. About wine. About the planet. And about providing brilliant service.
Only the best quality wines, as selected by top sommeliers, make it into our portfolio.
Our sole focus is on ethical producers who nurture the land for today and for the future.
We offer free carbon-neutral delivery to your door when you spend £150 or more.
Proud to be rated "Excellent" by our customers on TrustPilot (average rating: 5 stars).
If you're ever unhappy about the quality, we'll send you a replacement bottle for free.
Quality Organic Wines
At Wine&Earth we specialise in curating eco-friendly wines from independent producers around the world. In this collection, we feature our delicious certified organic wines and biodynamic wines.