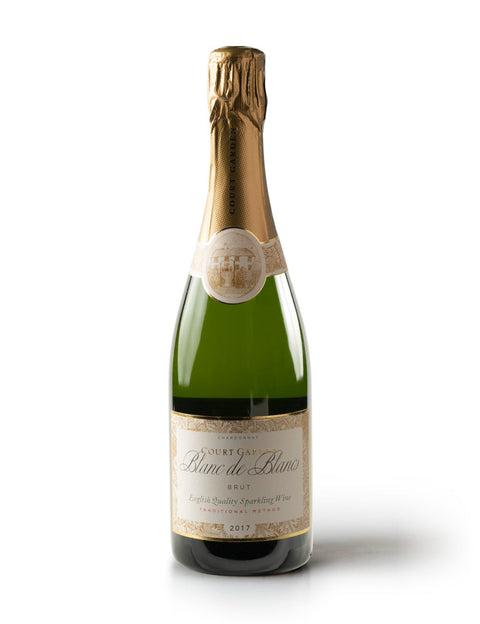 Court Garden
Court Garden Blanc de Blancs 2017
PDO England, Sussex, England
100% Chardonnay | 12% ABV
A wonderful example of a 100% Chardonnay fizz from East Sussex's Court Garden. Court Garden makes some lovely sparkling wines that have the elegance of Champagne but with a bit of English flair. This "Blanc de Blancs" is poised and fresh and would make a delicious apéritif or accompaniment with lighter fare.
Tasting Notes
Both gentle and elegant with aromas of lemon peel and custard. Green apple and melon dominate the palate, leading to a silky and smooth finish.
Service & Food Pairing
Serve chilled. Great on its own as an apéritif, or with canapés and lighter foods.
Meet the Winemaker
Hugo Corney has ditched the bean counting as a Chartered Accountant to grape counting in the vines, as chief winemaker at Court Garden Estate. In his own words: "At Court Garden, a single-vineyard estate set at the foot of South Downs national park, we pride ourselves in the care and attention we give our vines from the winter pruning through to the harvest festival in the Autumn. With the vineyard only 100-150 meters from the winery, we are able to process the hand-picked grapes within hours of picking to capture the true flavour and aromas of our meso-climate. Using cool fermentation and aging in both stainless steel and oak barrel and long lees aging in the bottle, we can showcase what is so special about Court Garden."
About the Vineyard & Estate
Court Garden is a family-run, single-estate vineyard and winery in East Sussex, set on a beautiful south-facing slope with the South Downs as a backdrop. Sussex shares similar geology to north-east France; the chalk of the downs runs beneath the Channel into the Champagne region. Established in 2005 by husband, wife and son team, Howard, Jenny and Hugo, who have quickly made a reputable name for themselves as a more boutique English wine producer.

The Farm has a long history of farming. In Saxon times the farm was known as the Manor of Ditchling Garden, from the middle ages to the reformation it was held by the monks at the priory in Lewes. After a short spell owned by the crown the farm became known as Court Garden. The farm appears on one of the earliest maps of Sussex, Yeakell and Gardner's map of 1778-1783, just to the north of Ditchling. Not much has changed in the landscape since then.
Sustainability Assessment
1* - Up & Coming

Court Garden Vineyard in East Sussex demonstrates a commitment to sustainability across various facets of their winemaking operation. They try to use environmentally-conscious viticulture, employing low intervention practices and actively mitigating the impacts of climate change through vine canopy management. Biodiversity preservation is a consideration, with the creation of wildflower meadows and some soil health practices in place. Their winemaking philosophy aligns with low intervention principles. They also use 100% renewable electricity. Engagement with the local community is evident through initiatives like employing community pickers, supporting local schools and charities, and hosting community events. Staff receive above minimum wage, and safety measures are in place for all employees. While they don't have specific sustainability targets and do not follow any organic farming practices, their efforts encompass ethical supplier considerations, female representation in leadership, and an overall consideration of environmental and social sustainability in their approach.
The full low-down
White | Sparkling | 75cl | 12% ABV | Contains Sulphites
Recognition: IWSC Silver 2020, IWC Silver 2020, 2015 IWC Trophy for Best English Sparkling Wine awarded to Court Garden Blanc de Blancs 2010 Vintage.
Show more
Why buy from Wine&Earth?
We care. About wine. About the planet. And about providing brilliant service.
Only the best quality wines, as selected by top sommeliers, make it into our portfolio.
Our sole focus is on ethical producers who nurture the land for today and for the future.
We offer free carbon-neutral delivery to your door when you spend £150 or more.
Proud to be rated "Excellent" by our customers on TrustPilot (average rating: 5 stars).
If you're ever unhappy about the quality, we'll send you a replacement bottle for free.
Quality Organic Wines
At Wine&Earth we specialise in curating eco-friendly wines from independent producers around the world. In this collection, we feature our delicious certified organic wines and biodynamic wines.