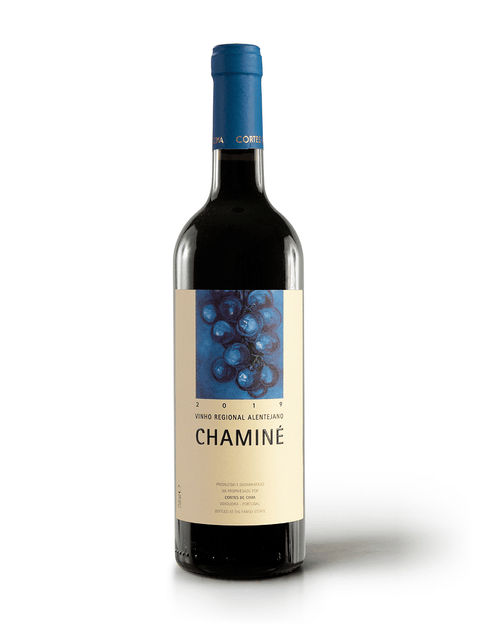 Cortes de Cima
Chaminé Tinto 2019
Vinho Regional Alentejano, Alentejano, Portugal
Blend: 40% Aragonez, 30% Syrah, 10% Touriga Nacional, 10% Trincadeira, 10% Alicante Bouschet | 13.5% ABV
We are delighted to offer you this stylish red wine made from Aragonez, Syrah, Trincadeira, Alicante Bouschet, and Touriga Nacional grapes produced in the Alentejo region of Portugal. It is vibrant and well-rounded on the palate with good acidity and body. A step up in concentration from their Courela Tinto, it offers a welcoming velvety mouthfeel that is still focused on its fruit.

Tasting Notes
The 2019 Chaminé Tinto has a overt nose of fresh cherries, red plum, dark fruits and a lick of black liquorice.

Service & Food Pairing
Service: Serve at 16-18ºC.

Food Pairing: Excellent with pasta, lean red meat, white meat and vegetarian dishes.

Meet the Winemaker
The winemaker Anna Jørgensen who studied and worked in viticulture and enology at all corners of the globe manages the vineyard and its funcitons. Her vision for the future includes incorporating values such as sustainability, innovation, quality, and respect for the surrounding nature. Anna says, "Winemaking is a path without written recipes, that requires presence and hard work in the vineyard, every day. The vineyard is the protagonist of the wines. Our winery work is guided by a hands-off approach. Earlier harvest for lower alcohol and higher natural acidity, night-time manual harvest, natural spontaneous fermentation, and as little as possible interference in the winery, to achieve wines with identity of a sense of place".

About the Vineyard & Estate
In 1988, A Danish-American couple, Hans and Carrie Jorgensen set out in a sailboat to find a place to start a family and plant vines. They came to Alentejo and they found "Cortes de Cima." It was just a barren land and a few abandoned buildings. But Carrie, of Portuguese ancestry, said the landscape reminded her of California, her homeland. Hans, who was born in Denmark, fell in love with the Mediterranean sun. Their first wine was "born" in 1998 and the many successful vintages which followed as well as their pioneering spirit have put Cortes de Cima on the map. The vineyard is spread across 100 hectars and produces close to 100,000 bottles per year.

The full low-down
Red | Still | 75cl | 13.5% ABV | Contains Sulphites
Recognition: Chaminé Tinto 2019: 87 Robert Parker, Wine Advocate| Chaminé Tinto 2013: Concours Mondial de Bruxelles: Gold| Chaminé Tinto 2007: Berlin Wine Trophy: Silver
Cellaring: Drink now
Why buy from Wine&Earth?
We care. About wine. About the planet. And about providing brilliant service.
Only the best quality wines, as selected by top sommeliers, make it into our portfolio.
Our sole focus is on ethical producers who nurture the land for today and for the future.
We offer free carbon-neutral delivery to your door when you spend £150 or more.
Proud to be rated "Excellent" by our customers on TrustPilot (average rating: 5 stars).
If you're ever unhappy about the quality, we'll send you a replacement bottle for free.
Quality Organic Wines
At Wine&Earth we specialise in curating eco-friendly wines from independent producers around the world. In this collection, we feature our delicious certified organic wines and biodynamic wines.