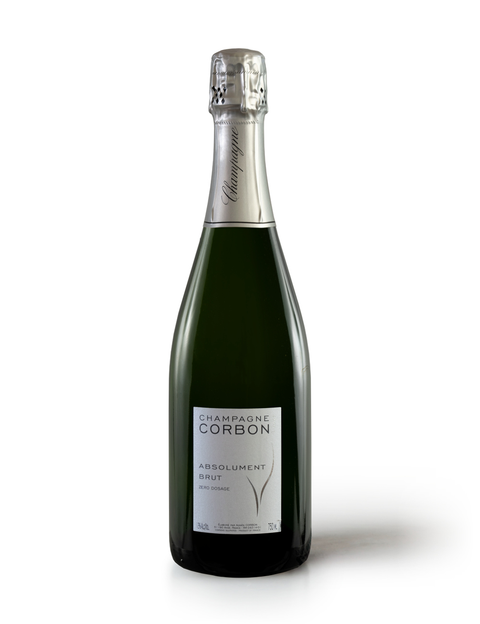 Champagne Corbon
Corbon Absolument Brut NV
AOC Champagne, Champagne, France
Blend: Chardonnay, Pinot Noir, Pinot Meunier | 12% ABV
Discover this remarkable French Champagne wine made with a blend of Chardonnay, Pinot Noir, and Pinot Meunier grapes. This non-vintage Champagne has a base of 2009 paired with the other vintages. The blend is crisp and refreshing and displays an excellent depth of fruit and an appealing salty tang finish.
Tasting Notes
A truly appealing palate of creamy almonds, white flowers, and lots of sweet, juicy cherries. Not overtly biscuity like other Champagnes, this has more flesh and fruit. It finishes polished and elegant
Service & Food Pairing
Service: Serve chilled at 6° to 9°C.

Food Pairing: Enjoy with seafood or fish in cream sauces, mushroom dishes or even roast chicken.
Meet the Winemaker
Agnès Corbon is the winemaker. In 2006, after an enriching experience as a packaging engineer and buyer in the food industry, Agnès joined her father to manage the family business, proud to perpetuate a tradition of authenticity, and craftsmanship.

"I often find myself thinking "Il est urgent d'attendre!" which doesn't really translate that well into English, but in essence, when it comes to Champagne, I remind myself 'It is an emergency to wait!' " says Agnès
About the Vineyard & Estate
The vineyard is located in the Grand Cru village of Avize. Though they own slightly under 6 hectares of vines, only 2.7 are used to produce their own Champagnes.

Avize has "the ideal terroir" for Chardonnay - hundreds of meters of chalk and a reservoir of water and heat, it brings finesse and minerality unmatched to the wines.

On the right bank of the Vallée de La Marne, lies the villages of Vandière, Verneuil, and Vincelles. These villages are located on clay-limestone marls. Historically, Meunier's favorite wines, today Corbon has planted three grape varieties here, Pinot Noir (in Vandières), Chardonnay (in Verneuil), and Meunier (in Vincelles, in Verneuil).


Sustainability Assessment
Wine&Earth Full Sustainability Review Pending.

The vineyard's approach to sustainability reflects a blend of respect for tradition and conscious cultivation techniques. Originating from Charles Corbon's early 20th-century establishment, the family's connection to the land has matured into a commitment to responsible viticulture. Their practices focus on the optimal expression of the Chardonnay, Meunier, and Pinot Noir grapes through minimal interventionist techniques. The current generation emphasises environmentally friendly methods such as enhancing deep root growth to reduce water stress and limit herbicide use. They continue a tradition of non-filtering, non-collage, and extended aging of their Champagne, valuing the intrinsic qualities of their terroir. This all reflects an intermediate level of sustainability maturity, where the historical connection to the land and artisanal methods blend with responsible environmental practices.
The full low-down
White | Sparkling | 75cl | 12% ABV
Recognition: CellarTracker: 90pts.
Cellaring: Ready to drink now.
Vinification: The current release's base wine originates from 2009, enabling even Agnès's "entry-level" Brut to have a remarkable amount of complexity. A portion of it is aged in 30 HL oak foudres. Aged on the lees for at least 5
years before disgorgement (but it often can be longer), it has zero dosage and like the rest of her wines, has
no fining, filtration or cold stabilisation.
Why buy from Wine&Earth?
We care. About wine. About the planet. And about providing brilliant service.
Only the best quality wines, as selected by top sommeliers, make it into our portfolio.
Our sole focus is on ethical producers who nurture the land for today and for the future.
We offer free carbon-neutral delivery to your door when you spend £150 or more.
Proud to be rated "Excellent" by our customers on TrustPilot (average rating: 5 stars).
If you're ever unhappy about the quality, we'll send you a replacement bottle for free.
Quality Organic Wines
At Wine&Earth we specialise in curating eco-friendly wines from independent producers around the world. In this collection, we feature our delicious certified organic wines and biodynamic wines.