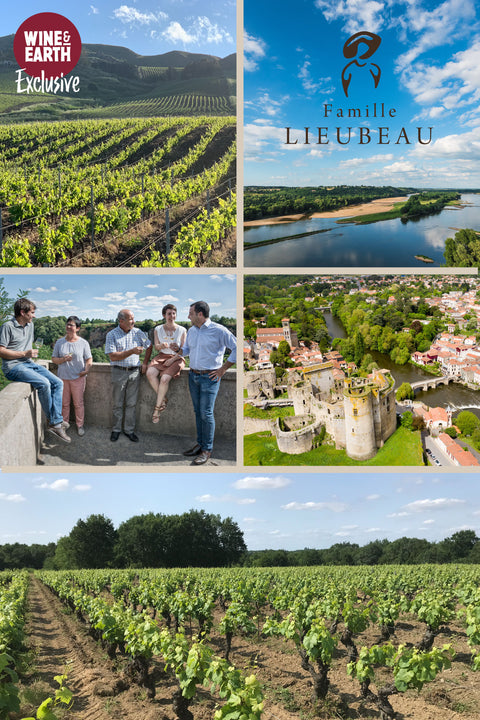 Famille Lieubeau 
Clos de la Placelière Lieubeau 2019
AOC Muscadet, Loire, France
100% Melon de Bourgogne | 12.0% ABV
We proudly introduce this white wine made from Melon de Bourgogne grapes which is the unique variety of the Muscadet Sèvre et Maine appellation. Crisp with citrus notes, with zest of orange, and a touch of mineral smoke, this wine spends 6 to 9 months on the lees (fermentation yeasts) for added richness.

Tasting Notes
Clos de la Placelière delivers a lightly fragrant nose of citrus notes with zest of orange and a touch of mineral smoke.

Service & Food Pairing
Service: Serve chilled at 12-14ºC.

Food Pairing: Excellent as an aperitif and with shellfish, fish and sushi.

Meet the Winemaker
The vineyard continue to be managed by the family, Pierre, Chantal and their children François, Vincent and Marie. The dynamic combination of their complementary personalities, experience and skills, guarantees the continuation of its viticultural excellence. François, the eldest son, is in charge of sales. Vincent, a qualified agronomic engineer and oenologist, manages the vineyard and the wines, with the help of his father Pierre. And Marie manages the everyday running of the winery and visits, alongside her mother Chantal.

About the Vineyard & Estate
One of the more unique backgrounds, the Lieubeau family came to be by fate. In 1816, Joseph Grégoire Lieubeau, had been left on the steps of the local hospital in Nantes. Not knowing his real name, those who found him blessed him with a fortunate name, meaning "beautiful place". He was raised by a local family who happened to be grape growers, and years later he eventually established his own domaine. Today, it is run by his descendants Pierre, Chantal and their children François, Vincent and Marie. They produce some of the most polished wines in the western Loire, with a focus on Muscadet, their region's flagship wine. The Famille Lieubeau emblem is a child in a hat. It symbolizes the family's history and our deeply rooted connection with Nantes , as well as our respect for nature and diversity , and our constant desire to learn, create and move forward.

The full low-down
White | Still | 75cl | 12% ABV
Cellaring: Drink now
Vinification: Pressing in a pneumatic press and selection of musts. Cold settling.
Aged six to nine months on lees, in underground vats.

Organic - Independently Certified
Why buy from Wine&Earth?
We care. About wine. About the planet. And about providing brilliant service.
Only the best quality wines, as selected by top sommeliers, make it into our portfolio.
Our sole focus is on ethical producers who nurture the land for today and for the future.
We offer free carbon-neutral delivery to your door when you spend £150 or more.
Proud to be rated "Excellent" by our customers on TrustPilot (average rating: 5 stars).
If you're ever unhappy about the quality, we'll send you a replacement bottle for free.
Quality Organic Wines
At Wine&Earth we specialise in curating eco-friendly wines from independent producers around the world. In this collection, we feature our delicious certified organic wines and biodynamic wines.