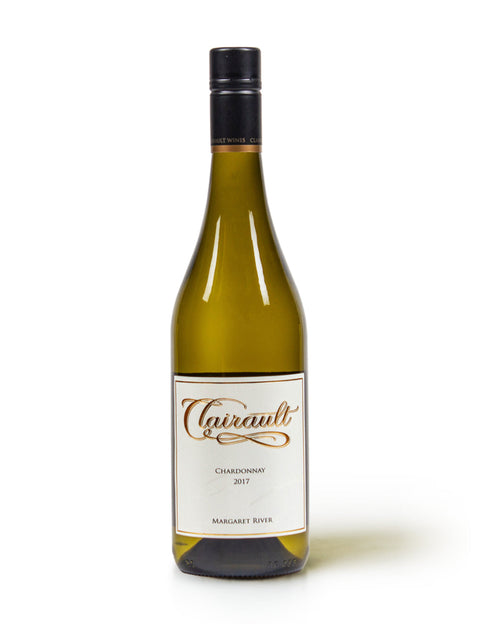 Clairault Streicker Wines
Clairault Streicker Wines White Label Chardonnay 2017
Margaret River, Australia
100% Chardonnay | 13%
We are delighted to present this Australian white wine made from 100% Chardonnay grapes. Clairault's White Label Chardonnay offers a lot of balance with its succulent orchard fruit, and subtle, creamy oak. Only 40% is fermented in new barrels, allowing its innate fruit freshness to surface. Fresh and succulent!
Tasting Notes
On the nose, it exudes notes of peaches, cream, nutmeg, and crushed lime. On the palate, it displays a balanced entry of dense stone fruit and lively citrus flavours. Coating acidity and fine texture lead to a finish of nectarines, toasted nuts, and lemon curd.
Service & Food Pairing
Service: Serve chilled at 7-13°C.

Food Pairing: Excellent with fish, fresh or soft cheese, pasta in white sauce, shellfish, poultry, and vegetarian dishes.
Meet the Winemaker
Meet the winemaker: Bruce Dukes. A University of Western Australia trained Argonomist and a Masters Degree in Viticulture and Oenology from the University of California, science underpins Bruce's approach to selecting fruit. The combination of his passion, artistic and intuitive flair take Bruce on his wine journey.

Bruce Dukes' first vintage with Clairault Streicker was in 2006 with the Streicker Ironstone Block Chardonnay. When the Clairault Vineyard was added to the Clairault Streicker portfolio in 2012, he became the Chief Winemaker of the full family of Clairault Streicker wines.

Bruce's holistic approach to grape growing and winemaking is shaped by over three decades of local and international winemaking experience – including five years at Francis Ford Coppola's Niebaum-Coppola winery in California. His time spent in California helped hone his exacting and confident approach. His winemaking philosophy is best described by wine expert Professor Steven Kolpan who noted in his book 'A Sense of Place' that, "Bruce Dukes articulates the art and science of winemaking with elegance and ease. Bruce knows that the best wines are made vine by vine, berry by berry…"
About the Vineyard & Estate
Clairault Streicker is a family-owned grower and wine producer located on the rugged south-west coastline of Western Australia, they are the owners and caretakers of four distinct sites spanning three of Margaret River sub-regions - Yallingup, Wilyabrup, and Karridale and spread over 400+ hectares.

In 2001, John H. Streicker visited Margaret River for the first time. He was taken by the relaxed Margaret River lifestyle, the region's passion for sustainable viticulture and world-class wine production. A year later he acquired his first vineyard, Yallingup, followed shortly by the Ironstone and Bridgeland vineyards in the mid-2000s.

The Ironstone Vineyard is set on 101 hectares on Caves Road with 25 hectares under vine. Its tightly spaced vines are planted to promote healthy competition and intensely flavoured fruit. The brown loamy sands over gravelly clay soils at Ironstone are exceptionally well suited for premium viticulture use.

Clairault is their oldest vineyard, established in 1976, sitting 120 meters above sea level, and is the meeting point for 3 water catchments, the Gunyulgup, Quinninup, and the Wilyabrup. The property is acknowledged as having one of the highest grades of biodiversity in the area and boasts a beautiful undulating landscape and plentiful natural bushland.
Sustainability Assessment
1* Up & Coming

Clairault Streicker, with its roots stretching back to 1976, is well underway with its environmental sustainability journey. They have adopted low-intervention, biological farming practices, which minimise environmental impact.

All four vineyards are certified with Sustainable Winegrowing Australia, ensuring compliance with rigorous sustainability standards.

The Clairault Vineyard's location at the confluence of three water catchments exemplifies strategic natural resource management, with the property being recognised for its high biodiversity, contributing to ecological health.

At the Ironstone Vineyard, carefully planned vine spacing promotes natural plant competition, leading to intensely flavoured fruit, a practice that harmonises high-quality production with environmental care.

Additionally, the Bridgeland Vineyard, benefiting from a unique microclimate due to its large water catchment, underscores the company's commitment to leveraging natural features to enhance sustainability.

The Yallingup Protea Farm & Vineyard diversifies its produce with both grapes and flowers, representing an integrated approach to land use that supports biodiversity.

Through these concrete practices, Clairault Streicker's approach to sustainability not only respects and preserves the natural environment but also elevates the quality and reputation of its produce within the Margaret River region.
The full low-down
White | Still | 75cl | 13% ABV
Recognition: Wine Enthusiast Magazine 2019: 91pts, International Wine Challenge 2019: Silver, New York International Wine Competition 2021: Bronze
Cellaring: Up to 5 years, however we enjoy it for freshness now.
Vinification: The fruit for our Chardonnay is harvested and pressed as both whole cluster and cold crushed fruit, to sculpt wines boasting great length, texture, and sophistication, as well as density of fruit and a bold complex palate. The juice is settled cold and racked, harvesting the lightest and most delicate grape solids to further aid in textural and aromatic development. The juice is barrel fermented in a mix of new, second, and third-fill French oak barriques. A portion of the wine undergoes malolactic fermentation to broaden the palate and add additional complexity. The rest is sulphured pre-malolactic fermentation, to preserve fresh fruit aromatics and pure acidity. It is then aged in oak for 9 months and battonaged every two weeks, after which the wine is removed from the barrel, clarified, and bottled.
Why buy from Wine&Earth?
We care. About wine. About the planet. And about providing brilliant service.
Only the best quality wines, as selected by top sommeliers, make it into our portfolio.
Our sole focus is on ethical producers who nurture the land for today and for the future.
We offer free carbon-neutral delivery to your door when you spend £150 or more.
Proud to be rated "Excellent" by our customers on TrustPilot (average rating: 5 stars).
If you're ever unhappy about the quality, we'll send you a replacement bottle for free.
Quality Organic Wines
At Wine&Earth we specialise in curating eco-friendly wines from independent producers around the world. In this collection, we feature our delicious certified organic wines and biodynamic wines.