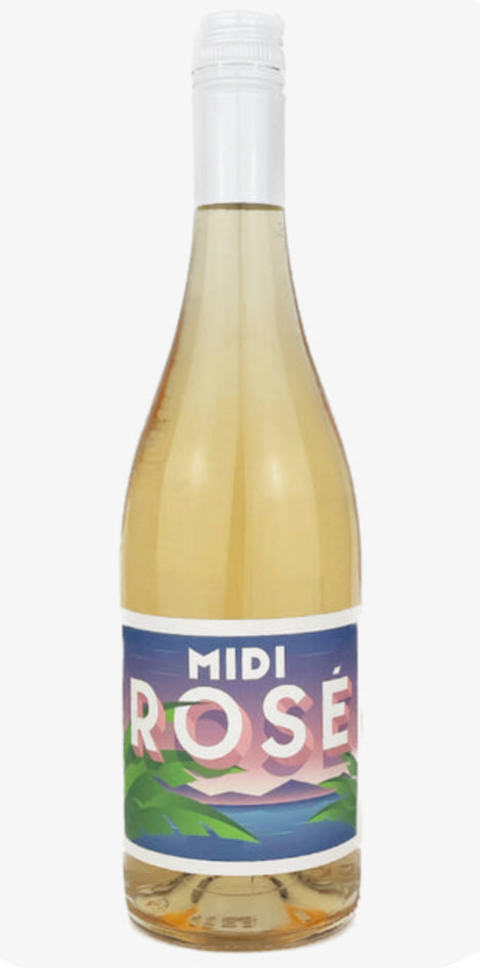 Christophe Muret
Midi Rosé 2020
Languedoc, France
Blend: Cinsault, Syrah | 11.5% ABV
This is a great wine, but following our merger, there are a few wines that haven't made the cut in our new portfolio. This is one of them. But there's no need for it to go to waste.... snap up our last remaining bottles at a discount!

Click "The full low-down" below to read more about this wine.
Tasting Notes
Crisp, dry fruit and a river stone finish.
Service & Food Pairing
On its own, or with nibbles, a picnic, salads or fresh seafood
The full low-down
An easy-drinking pale rosé made in the Provence style. If you're looking for something playful outdoors this summer, this great value rosé from Languedoc won't let you down.

Tasting notes

Crisp, light and dry, with pleasant summer aromas and lovely mineral finish.

Food pairings

Enjoy on its own, with a picnic, with fresh seafood or with salty appetisers.

About the winemaker

Christophe Muret was once the biggest exporter of melons in France, but traded this in for his love of wine in the hills where Picpoul de Pinet is made.

His enthusiasm for his vines, which he cultivates on a minimal intervention principle (and is in effect organic), is infectious. His vines are set upon a garrigue filled outcrop of red clay and limestone, with loamy soils, exposed to cooling winds which help to retain freshness in the wines.

Sustainability credentials: Making good progress (1*)

Christophe Muret grows "Lutte Raisonee" which means they conscientiously practice with lower intervention - using far less chemicals than conventional viticulture, but aren't fully organic or fully certified. Midi Rosé is suitable for a vegan diet.

Other info: Rosé. 11.5%Vol. Cinsault & Syrah grapes. Screwtop. Vintage 2020.
Why buy from Wine&Earth?
We care. About wine. About the planet. And about providing brilliant service.
Only the best quality wines, as selected by top sommeliers, make it into our portfolio.
Our sole focus is on ethical producers who nurture the land for today and for the future.
We offer free carbon-neutral delivery to your door when you spend £150 or more.
Proud to be rated "Excellent" by our customers on TrustPilot (average rating: 5 stars).
If you're ever unhappy about the quality, we'll send you a replacement bottle for free.
Quality Organic Wines
At Wine&Earth we specialise in curating eco-friendly wines from independent producers around the world. In this collection, we feature our delicious certified organic wines and biodynamic wines.