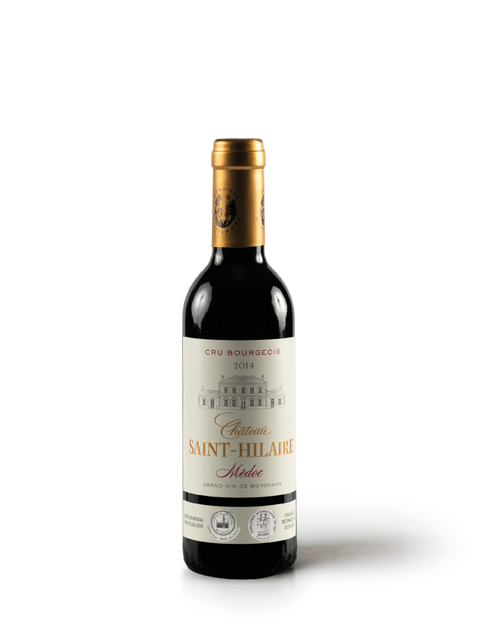 Château Saint-Hilaire
Médoc 2014 (Half)
AOC Médoc, Bordeaux, France
Blend: 55% Cabernet Sauvignon, 45% Merlot | 14% ABV
Discover this delicious French red wine made of a blend of Cabernet Sauvignon and Merlot grapes from the renowned Bordeaux. A great value wine, this savoury, and appealing red Bordeaux generously tick the "delicious Claret" box. It displays a balance between the fruit sweetness and the earthy tones. Now that it has been cellared for a few years, this wine is at its pinnacle and ready to enjoy.
Tasting Notes
This wine exudes notes of black cherry, cedar, red plum, spice, and tobacco.
Service & Food Pairing
Service: Serve at 17 to 18°C.

Food Pairing: Excellent with beef, pasta in tomato sauce, beef, game, lamb, poultry, pork, and vegetarian dishes.
Meet the Winemaker
Eric Boissenot is the winemaker who shares the estate's vision of wine-making and their attachment to the tradition and the terroir. He is one of the ten greatest oenologist-consultants in the world.
About the Vineyard & Estate
This Cru Bourgeois property has well-placed vineyards right at the northern end of the Médoc, just north of Saint-Estephe, on deep gravel and clay-limestone soils.

The first vines were planted on an excellent terroir composed of gravel on the edge of the Gironde estuary in Jau Dignac Loirac, as well as clay and limestone soils in Queyrac and sandy-clay soils in Gaillan. In 2012, the vineyard was extended on a deep gravelly soil along the Gironde estuary, in Valeyrac, giving rise to truly elegant fine wines.

Today, the vineyard which spreads over 60 hectares and 4 wine-growing villages/communes, offers a rich diversity of terroirs.
Sustainability Assessment
One to Watch.

Château Saint-Hilaire, recognised as a Cru Bourgeois Supérieur, has taken positive steps towards sustainability within the Médoc.

The estate, managed by Adrien Uijttewaal and his wife Fabienne, focuses on environmentally mindful practices. Their 50-hectare vineyard adheres to 'agriculture raisonnée', certified by TERRA VITIS, which suggests an effort towards sustainable farming while being conscious of their environmental impact.

The incorporation of Blonde d'Aquitaine cattle on natural pastures indicates a move towards a more diversified and potentially sustainable ecosystem. Their livestock practices bear the certification "La Signature des Eleveurs Girondins", which could reflect responsible animal husbandry.

Sustainability efforts are also seen in the family's approach to education and heritage, with their daughter Elise being involved in the business, indicating an intention to preserve and pass on sustainable farming values.

While the vineyard does not hold an organic certification, which points to limitations in their sustainability journey, their current practices do reflect an engagement with sustainable principles.

The full low-down
Red | Still | 37.5cl | 14% ABV
Cellaring: Drinking well now, will develop over 15 years.
Vinification: The vinification involves traditional methods; grapes are fermented by variety, geographical origin, and quality in stainless steel vats with electronic temperature control. The fermenting wine is pumped over twice and the cap is punched down every day. The maceration lasts 21 days on average. The blending is an especially important stage and takes place with the collaboration of Eric Boissenot, the estate's consultant œnologist. The wine is then aged for one year from the December following the harvest in 600-liter oak barrels, one-third of which are replaced every year.
Why buy from Wine&Earth?
We care. About wine. About the planet. And about providing brilliant service.
Only the best quality wines, as selected by top sommeliers, make it into our portfolio.
Our sole focus is on ethical producers who nurture the land for today and for the future.
We offer free carbon-neutral delivery to your door when you spend £150 or more.
Proud to be rated "Excellent" by our customers on TrustPilot (average rating: 5 stars).
If you're ever unhappy about the quality, we'll send you a replacement bottle for free.
Quality Organic Wines
At Wine&Earth we specialise in curating eco-friendly wines from independent producers around the world. In this collection, we feature our delicious certified organic wines and biodynamic wines.