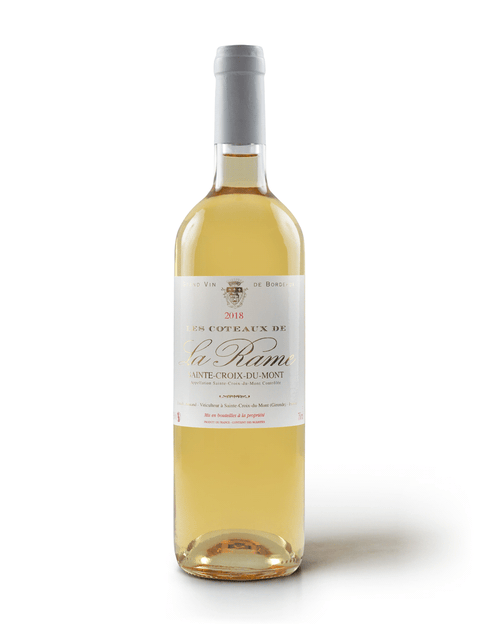 Château La Rame
Sainte-Croix-du-Mont 2019
AOC Sainte Croix du Mont, Bordeaux, France
100% Sémillon | 13% ABV
Discover this refreshing mellow dessert wine with expressive aromas of exotic and candied fruits. On tasting, the wine's balance is harmonious, making it a perfect match for foie gras. A delightful explosion of flavours on the palate! Golden yellow colour with golden highlights. This would nicely accompany a smidge of Stilton or even some sweet biscuits for an afternoon treat.

Tasting Notes
Beautiful golden colour.

On the nose: it is distinguished by a delicate bouquet, a structure combining power, finesse, aromatic intensity and a harmonious palette of flavours: citrus fruits, exotic fruits: pineapple, mango, lemon confit, Acacia, vanilla.

On the palate: offering a general impression of harmony and elegance, Les Coteaux de La Rame stands out for its minerality, liveliness and beautiful acidity which give it freshness and freshness, elegance. A wine in the air of time with a lot of freshness.

Service & Food Pairing
Service: Serve between 8-10° C.

Food Pairing: Great as an aperitif, ideal on scallops, fricassee of langoustines, lobster, fish in sauces (monkfish, turbot), white meats: Roast chicken, dishes of the exotic cuisine, Spicy dishes, parsley cheeses: Roquefort and desserts composed of fresh fruits: mango, pineapple, melon, fruit tart and fruit gratin.

Meet the Winemaker
The winegrower: Angélique Armand in 2019, following the sudden death of her brother Grégoire (who managed Château La Rame), decided to continue the family adventure. This gave her the opportunity to put her values and convictions into practice, with the aim of producing a Grand Vin Artisanal with its own identity. Without concession or sharing, quality is above all!

About the Vineyard & Estate
A unique terroir made up of clay-limestone hillsides, a priceless terroir where Merlot and Cabernet Sauvignon express themselves perfectly.

This 5 Hectare vineyard is located In the heart of a remarkable and historical site, appreciated by all. It is nicknamed "La Toscane Bordelaise" (the Tuscany of Bordeaux).


The full low-down
Sweet | Still | 75cl | 13% ABV | Contains Sulphites
Annual Production: 18,000 bottles.
Cellaring: From 2 to 10 years - Pleasant to drink on the fruit from the 2nd year.
Vinification: The grapes are brought intact (without crushing) to the press, not more than two hours after picking. They undergo a soft and slow pressing which releases a thick juice.

After a slight settling, the wort will ferment 2 to 3 weeks at a temperature controlled temperature (between 20 and 23 °). It will then take 2 years of vigilant care before the harvest is bottled.
Why buy from Wine&Earth?
We care. About wine. About the planet. And about providing brilliant service.
Only the best quality wines, as selected by top sommeliers, make it into our portfolio.
Our sole focus is on ethical producers who nurture the land for today and for the future.
We offer free carbon-neutral delivery to your door when you spend £150 or more.
Proud to be rated "Excellent" by our customers on TrustPilot (average rating: 5 stars).
If you're ever unhappy about the quality, we'll send you a replacement bottle for free.
Quality Organic Wines
At Wine&Earth we specialise in curating eco-friendly wines from independent producers around the world. In this collection, we feature our delicious certified organic wines and biodynamic wines.