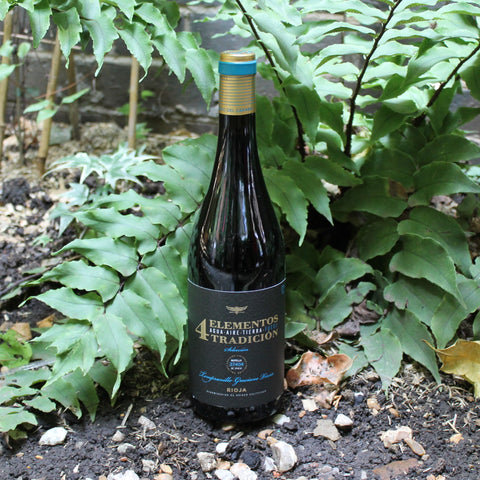 Bin End Sale
Rioja Tradicion 2017
Rioja D.O.C., Spain
Blend: Tempranillo, Garnacha, Viura. | 14.0% ABV
This is a great wine, but following our merger, there are a few wines that haven't made the cut in our new portfolio. This is one of them. But there's no need for it to go to waste.... snap up our last remaining bottles at a discount!

Click "The full low-down" below to read more about this wine.
The full low-down
This is a traditional style Rioja which really packs in the wow factor from the moment it hits your senses when you first smell it. Old school and classy but at the same time fresh and surprising - everything you could want from a Rioja and more.

Tasting notes

Fresh, juicy red. 12 month barrel ageing has drawn out bright ruby notes of raspberry and liquorice. Great to drink on its own and a good match for sharing plates.

About the winemaker

Gonzalo Rodriguez tends his 9 hectares of vines in Abalos, Rioja Alavesa, with real love and energy. He founded his own bodegas after tiring of the larger 'factories' he was working for. His vines are some of the oldest and highest in Rioja, and the quality and taste shines through. He constantly experiments and he takes the best experiments to evolve his vintages and styles.

Sustainability credentials: Good (2*)

Organic over all 9 hectares but uncertified. Great use of ground cover and minimal tillage, teaming with biodiversity.

Other info: Red. 14%Vol. Tempranillo, Garnacha, Viura. 2016 Vintage.
Why buy from Wine&Earth?
We care. About wine. About the planet. And about providing brilliant service.
Only the best quality wines, as selected by top sommeliers, make it into our portfolio.
Our sole focus is on ethical producers who nurture the land for today and for the future.
We offer free carbon-neutral delivery to your door when you spend £150 or more.
Proud to be rated "Excellent" by our customers on TrustPilot (average rating: 5 stars).
If you're ever unhappy about the quality, we'll send you a replacement bottle for free.
Quality Organic Wines
At Wine&Earth we specialise in curating eco-friendly wines from independent producers around the world. In this collection, we feature our delicious certified organic wines and biodynamic wines.