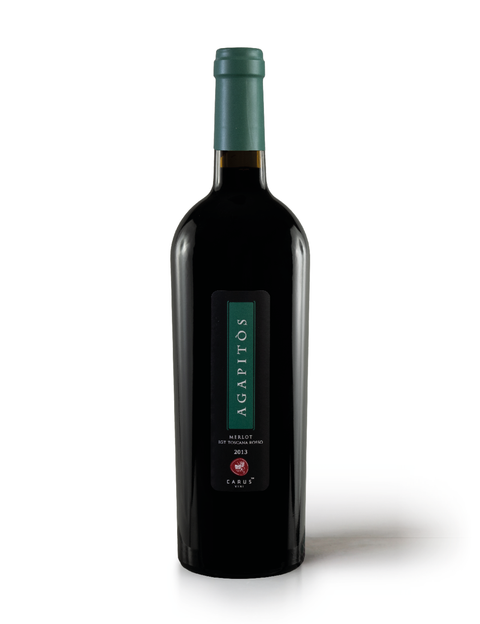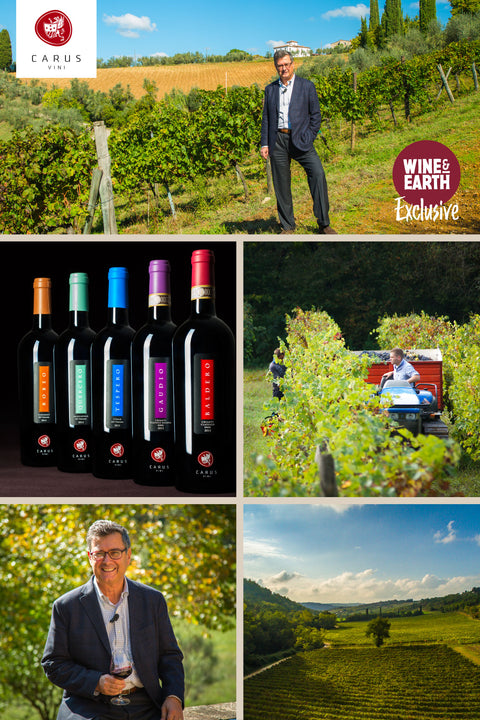 Carus Vini
Agapitòs 2013
IGT Toscana, Tuscany, Italy
100% Merlot | 14.5% ABV
Discover this plush Merlot made made 100% Merlot grapes. It tastes first and foremost "Italian" with its appealing umami flavours, then its Merlot fruit core surfaces. A delicious red wine, well worth discovering for those who like Tuscan wines. The harvest done exclusively by hand enhances the quality of the grapes produced, allowing the best ones to be selected.

Tasting Notes
On nose it has notes of black cherry, raspberry and plum that blend perfectly with the hint of tobacco, vanilla and mocha. On palate, it is intense, rich and enveloping with velvety tannins, confirming the sensations of smell to the taste.

Service & Food Pairing
Service: Serve at 14°C

Food Pairing: Excellent with pasta with dried tomatoes, roasted chicken and lightly spiced red meat.

Meet the Winemaker
In 2011, Guido Carissimo embarked on a journey into the world of winemaking in the picturesque region of Tuscany. However, this winemaking passion had deep roots in his family's heritage, stretching back through four generations in the sun-soaked vineyards of Puglia. During his youth, he actively participated in the management of the family farm, but as time passed, a desire for something new beckoned.

After pursuing studies and gaining diverse work experiences around the globe, he returned to his homeland, Italy. Settling in Tuscany, the enchanting landscape of the region rekindled his ""wine making disease,"" a term often used to describe the irresistible passion for crafting fine wines. It was, as he describes it, a case of love at first sight with the captivating beauty of the Tuscan valley. Guido's vision for winemaking differed from the historical practices of their family. He aspired to create exquisite wines while prioritizing minimal impact on the environment. In this pursuit, he aimed to blend tradition with innovation, crafting wines that told a unique story while respecting the natural world that surrounded them.
About the Vineyard & Estate
Carus Vini was created in the 1990s in the San Casciano in Val di Pesa, the heart of Chianti Classico. Most of its vineyards were planted under the direction of the late Giacomo Tachis, the famous Italian oenologist collaborated on and launched Super Tuscans such as Sassicaia and Tignanello. The 13.5 hectare vineyard is on calcareous clay hillsides, at elevation of 300m above sea level. Growth and productivity are carefully balanced; the vineyards are carefully tended until the harvest (done by hand into small baskets) which is carried out in different phases to guarantee only perfectly ripe grapes are picked.
Sustainability Assessment
This organic vineyard is committed to sustainability in wine production. Carus' approach is to minimise environmental impact while maintaining a focus on quality and tradition. They adhere to Integral Agriculture principles, avoiding chemical products, using nitro-sating crops between vineyard rows, and relying on manual harvesting without irrigation. They also practice a careful plant replacement strategy to ensure optimal production. Additionally a significant portion of their electricity needs are met by solar panels installed on their winery.
The full low-down
Red | Still | 75cl | 14.5% ABV | Contains sulphites
Recognition: 92 James Suckling.
Cellaring: Drink now.
Vinification: It is a 100% pure Merlot aged in Allier oak barriques.

Why buy from Wine&Earth?
We care. About wine. About the planet. And about providing brilliant service.
Only the best quality wines, as selected by top sommeliers, make it into our portfolio.
Our sole focus is on ethical producers who nurture the land for today and for the future.
We offer free carbon-neutral delivery to your door when you spend £150 or more.
Proud to be rated "Excellent" by our customers on TrustPilot (average rating: 5 stars).
If you're ever unhappy about the quality, we'll send you a replacement bottle for free.
Quality Organic Wines
At Wine&Earth we specialise in curating eco-friendly wines from independent producers around the world. In this collection, we feature our delicious certified organic wines and biodynamic wines.