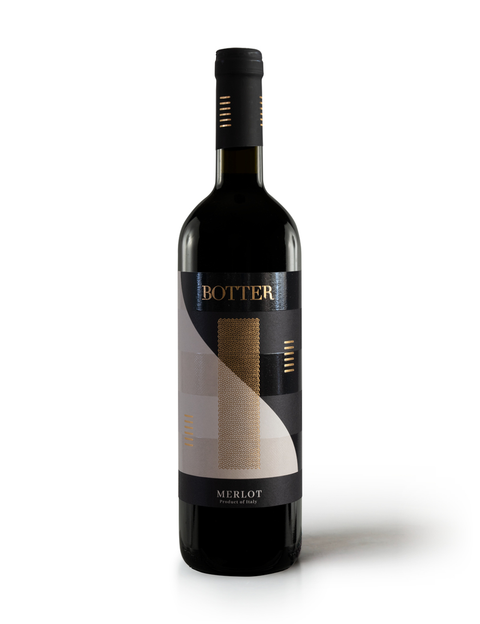 Botter Wines
Merlot Veneto IGT 2021
IGT Veneto, Italy
100% Merlot | 12% ABV
We are pleased to introduce this Merlot from Botter Wines that has an appealing core of crushed red plums and a touch of spice, perfect example of a juicy red with softer shoulders and lots of appeal. This is perfect for those who like medium-bodied fleshy red wines. Definitely add it to your list of best red wine under 20.
Tasting Notes
Clean bouquet with notes of currants and violets. Warm, smooth and harmonious with soft tannins.

Service & Food Pairing
Service: Serve at 18-20°C.

Food Pairing: Lovely with savoury dishes such as risotto with mushrooms, with pasta ravioli. Pleasant accompaniment to boiled or roasted meats.

Meet the Winemaker
The winemaker Marco Flacco Breve began his oenological career by enrolling at the University of Ancona where he graduated in Viticulture and Oenology in 1999. Immediately after his studies he began working with several Cooperative Cellars in Abruzzo until 2001 when he accepted the position of Assistant Winemaker at Farnese Wines developing the company's projects in the regions of Southern Italy with particular attention to the areas: Abruzzo, Puglia, Sicily, Campania and Basilicata. The spirit of growth and its skills led him to collaborate with cellars internationally in Australia (Margaret River), South Africa (Cape Town), Argentina (Mendoza). Since 2014 he has been responsible for the Vinification operations in Sicily, Puglia, Campania and Abruzzo with coordination activities of the CVCB Group of Oenologists.
About the Vineyard & Estate
This 1500 hectare vineyard in the region of Veneto is temperate, mitigated by the sea. The chain of the Alps protects it from the northern winds. Winters are cold and wet, summers are hot and sultry with medium temperature excursions.
Sustainability Assessment
2* Moving on up.

Botter Wines demonstrates a mature and comprehensive approach to sustainability that extends across environmental, social, and economic dimensions. Environmentally, they have achieved Certified Organic status and adhere to the EQUALITAS 3E Certification, which not only signifies sustainable agricultural practices but also illustrates a commitment to reducing environmental impacts at every step of their production chain. For instance, their efforts to minimize polluting emissions and waste, alongside the responsible use of energy, exemplify proactive steps towards environmental conservation.

Socially, the company's dedication to ethical practices is highlighted by their adherence to the ETHICAL TRADE AUDIT SMETA SEDEX, ensuring responsible labour practices and contributing positively to their local community. This is further augmented by their family-run ethos, which emphasizes the well-being and development of both their customers and community stakeholders.

Economically, Botter Wines places a strong emphasis on customer satisfaction through quality and service. The company's growth into one of the largest exporters of Italian wine demonstrates their success in maintaining economic sustainability while expanding their market presence globally. This expansion has been guided by principles of integrity, respect, and a commitment to building long-lasting relationships with international customers and regional suppliers.

Botter Wines' sustainability approach is not only evident through their certifications and policies but also through their tangible actions such as the selection of native grape varieties, innovative packaging solutions, and an asset-light business model that enhances flexibility and market responsiveness.

Overall, the company's near-century of evolution and adaptation indicates a deeply ingrained culture of sustainability. By marrying tradition with forward-looking innovation, Botter Wines has positioned itself as a responsible steward of the environment and a proactive member of the global wine community, setting a strong example for the industry.
The full low-down
Red | Still | 75cl | 12% ABV | Contains Sulphites
Cellaring: Drinking well now, will continue to develop for 2 years.
Vinification: The harvested and destemmed grapes have
been vinified with 7/8 days of maceration in order to extract colour and structure. The alcoholic and malolactic
fermentation are made in stainless steel tanks at a controlled temperature of 25 - 27°C.

Show more
Why buy from Wine&Earth?
We care. About wine. About the planet. And about providing brilliant service.
Only the best quality wines, as selected by top sommeliers, make it into our portfolio.
Our sole focus is on ethical producers who nurture the land for today and for the future.
We offer free carbon-neutral delivery to your door when you spend £150 or more.
Proud to be rated "Excellent" by our customers on TrustPilot (average rating: 5 stars).
If you're ever unhappy about the quality, we'll send you a replacement bottle for free.
Quality Organic Wines
At Wine&Earth we specialise in curating eco-friendly wines from independent producers around the world. In this collection, we feature our delicious certified organic wines and biodynamic wines.