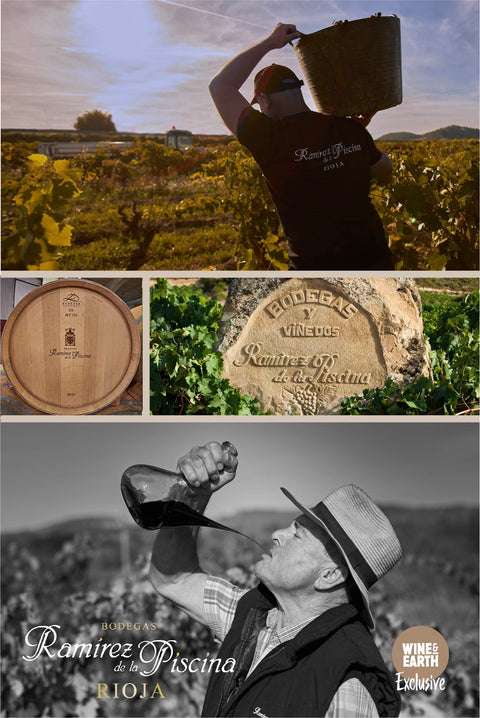 Bodegas Ramírez de la Piscina
Selección Rioja Reserva 2017
DOCa Rioja, Rioja, Spain
100% Tempranillo | 14% ABV
We are delighted to offer this Spanish red wine made from 100% Tempranillo grapes in the Rioja region of Spain. This fine Reserva Selección is produced with traditional methods, including hand harvesting and ageing in both French and American barrels. A polished and sumptuous wine which would leave you asking for more!
Tasting Notes
This wine has a nose of sweet vanilla, dried flowers and tobacco. In the mouth, the full red berry flavours are underlined by toasted oak yet silky tannins. It finishes balanced on red fruit jam and sweet spice.
Service & Food Pairing
Service: Serve at 18°C.

Food Pairing: Excellent with beef, lamb, game, pork, pasta in tomato sauce and vegetarian dishes.
About the Vineyard & Estate
Vineyards over 30 years old, located in Ábalos and San Vicente de la Sonsierra, Rioja Alta. Clay-calcareous soil.
The full low-down
Red | Still | 75cl | 14% ABV
Cellaring: Ready to drink now.
Vinification: After careful classification of the grape, they are destemmed and taken to the fermentation tank. In it, they remain for several days in the maceration phase, before the fermentation starts tumultuously in the liquid phase, which is found under the skins of the grape, which floats on top. The automatic pump-over and immersion are responsible for extracting the tannins and colour of the grape skin. All the fermentation process is thermally regulated to favour the survival of the yeast until the end of it. Once finished fermentation, the wine is extracted by gravity.
Why buy from Wine&Earth?
We care. About wine. About the planet. And about providing brilliant service.
Only the best quality wines, as selected by top sommeliers, make it into our portfolio.
Our sole focus is on ethical producers who nurture the land for today and for the future.
We offer free carbon-neutral delivery to your door when you spend £150 or more.
Proud to be rated "Excellent" by our customers on TrustPilot (average rating: 5 stars).
If you're ever unhappy about the quality, we'll send you a replacement bottle for free.
Quality Organic Wines
At Wine&Earth we specialise in curating eco-friendly wines from independent producers around the world. In this collection, we feature our delicious certified organic wines and biodynamic wines.