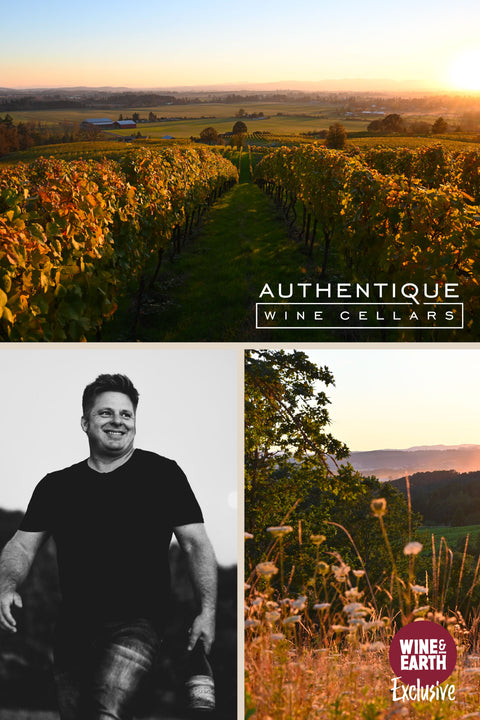 Authentique Wine Cellars
Ridgecrest Pinot Noir 2016
AVA Ribbon Ridge, Oregon, USA
100% Pinot Noir | 13.5% ABV
We are proud to present the Ridgecrest Pinot Noir 2016 which is supple on the palate with firm structure and plush tannins. It's highly evocative of the Chehalem Mountains and Ribbon Ridge AVA with layers of dark, brooding fruit: cedar, lavender, black cherry, and dark currants dominate the entry. These carry through to the wine, leading to a persistent and memorable finish.

Tasting Notes
The aromas are perfumed with high tones of fruit and flowers in addition to cranberry, fresh coffee, chocolate, cigar box, and allspice.

Service & Food Pairing
Service: Serve slightly chilled at 12-13°C

Food Pairing: Goes well with beef, duck, game, lamb, poultry and vegetarian dishes.
Meet the Winemaker
Nicholas Keeler, the winemaker grew up with wine. His grand father was a wine merchant in Germany, this combined with his love for travel, food, and art introduced Nicholas to the world of wine. He enrolled in UC Davis classes and passed the sommelier exam, and worked various harvests with talented winemakers.

"I use the finest and unique forest  origin-specific French oak barrels  and upright tanks to ferment and over vintage my wines. The result?  A seamless integration of extra-tight grain oak, with fine compact tannins, that discretely frame vineyard nuance and preserve the fresh aspect of the wines - one of the great signatures of Authentique." says Nicholas"

About the Vineyard & Estate
Ridgecrest Vineyard EST. 1980 was the first vineyard planted on a small ridge of ocean sedimentary soils that, 25 years later, was designated the Ribbon Ridge AVA. Authentique purchases dry farmed, own rooted heritage Wadneswil clone from Ridgecrest 7 acre block, one of the foremost vineyards in the Willamette Valley.

Owned and managed by Wynn and Harry Peterson-Nedry, Wind Ridge Vineyard is located just down the road from their famed Ridgecrest Vineyard in the Ribbon Ridge AVA within the Chehalem Mountains. The southern facing slope of this vineyard produces riper fruit than what we source from Ridgecrest. It is dry farmed and makes wine with great tannin structure.

Sustainability Assessment
3* Pioneer

Nestled in the Eola-Amity Hills AVA near Amity, Oregon, Keeler Estate Vineyard firmly roots its practices in sustainable viticulture. Benefiting from the Pacific Ocean's tempering breezes via the Van Duzer Corridor, the vineyard's location provides optimal grape-growing conditions. The rich history of its soils, shaped by ancient oceanic residues, volcanic activities, and the Missoula floods, offers a unique terroir. Keeler Estate places an emphasis on Single vineyard designate Oregon Pinot Noir and Chardonnay, from vineyards with Tilth Organic and Demeter Biodynamic certification. Beyond grape cultivation, the estate champions biodiversity. It hosts a blend of oak groves, fir trees, sandstone boulders with seashell embeds, running streams, cascading waterfalls, and serene ponds. This vibrant ecosystem is home to varied wildlife, underscoring the vineyard's commitment to maintaining a balance between agriculture and nature. Owner Nicholas Keeler is passionate about his work and the next phase of his project is to build his own winery and we expect to see the attention to detail he's applied to the vines and wine-making to be reapplied to the building of a sustainable winery.


The full low-down
Red | Still | 75cl | 13.5% ABV
Recognition: Ridgecrest Vineyard Pinot Noir 2017: 94 Wine Enthusiast, 93 James Suckling
Vinification: Seven-day cold soak maceration to encourage soft-extraction of color and flavors. Native and spontaneous fermentation in jacketed stainless steel tanks. A combination of whole cluster and whole berry fermentation. Gentle press cycles.

16-month élévage in 40% new oak barrels with racking only occuring just prior to bottling.

Vegan - Independently Certified
Organic - Self-certified
Why buy from Wine&Earth?
We care. About wine. About the planet. And about providing brilliant service.
Only the best quality wines, as selected by top sommeliers, make it into our portfolio.
Our sole focus is on ethical producers who nurture the land for today and for the future.
We offer free carbon-neutral delivery to your door when you spend £150 or more.
Proud to be rated "Excellent" by our customers on TrustPilot (average rating: 5 stars).
If you're ever unhappy about the quality, we'll send you a replacement bottle for free.
Quality Organic Wines
At Wine&Earth we specialise in curating eco-friendly wines from independent producers around the world. In this collection, we feature our delicious certified organic wines and biodynamic wines.