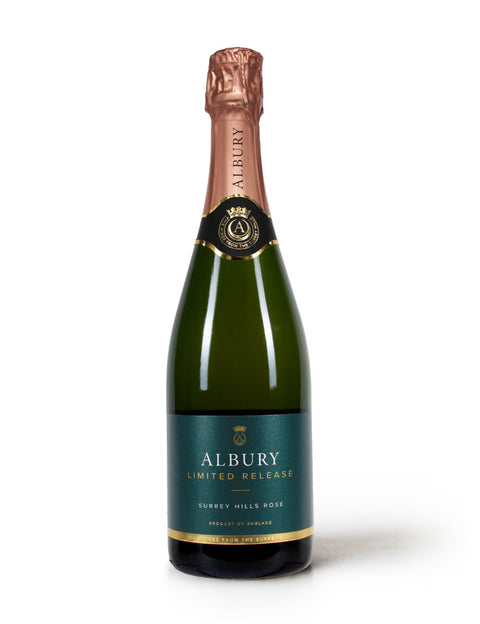 Albury Estate
Albury Surrey Hills Rosé NV
English Varietal Wine, Surrey, England
Blend: 56% Pinot Noir, 32% Chardonnay, 12% Pinot Meunier | 11.5% ABV
Discover this outstanding sparkling Rosé wine made from a blend of Pinot Noir, Chardonnay, and Pinot Meunier grapes produced in the Surrey region of England. Medium acidity and well balanced with a persistent mousse. All grapes are sourced from the vineyards situated in the North Downs of the Surrey Hills.
Tasting Notes
This Limited Release Surrey Hills Rosé is rose pink in colour with some perfumed floral strawberry and citrus notes on the nose. The palate is rich and creamy with a nicely developed complexity and creaminess enhancing its spicy undertones.
Service & Food Pairing
Service: Serve chilled at 8-10ºC.

Food Pairing: Excellent as an aperitif with cheese, fish, shellfish, pasta in cream sauce, poultry and vegetarian dishes.
Meet the Winemaker
The winemaker Matthieu Elzinga does a brilliant job at crafting the wines at Albury Estate. He is a winemaker at Litmus Wines, a premium contract winemaker located in Surrey. Matthieu is truly passionate about wine-making and works closely with the team to get the best out of every single grape, helping in establishing a distinct Albury house style. Matthieu ran his own family vineyard in the Loire Valley for many years, but prefers the challenge that making wine in England brings!

About the Vineyard & Estate
Albury Vineyard is the result of Nick Wenman's passion for quality wine. Nick planted the vineyard in 2009 having retired from the IT industry to fulfil his dream of owning a vineyard. The 9-hectare Vineyard is situated on the southern slopes of the North Downs in the beautiful Surrey Hills. The vines are the traditional Champagne varietals of Chardonnay, Pinot Noir, and Pinot Meunier, as well as some Seyval and Pinot Gris.

Sustainability is at the core of the business and reflects in the way the vineyard is managed alongside nature. The vineyard is home to half a million honey bees, vital for preserving ecological balance and biodiversity.

The full low-down
Rosé | Sparkling | 75cl | 11.5% ABV | SO2 86mg/L
Organic - Self-certified
Vegan - Self-certified
Why buy from Wine&Earth?
We care. About wine. About the planet. And about providing brilliant service.
Only the best quality wines, as selected by top sommeliers, make it into our portfolio.
Our sole focus is on ethical producers who nurture the land for today and for the future.
We offer free carbon-neutral delivery to your door when you spend £150 or more.
Proud to be rated "Excellent" by our customers on TrustPilot (average rating: 5 stars).
If you're ever unhappy about the quality, we'll send you a replacement bottle for free.
Quality Organic Wines
At Wine&Earth we specialise in curating eco-friendly wines from independent producers around the world. In this collection, we feature our delicious certified organic wines and biodynamic wines.