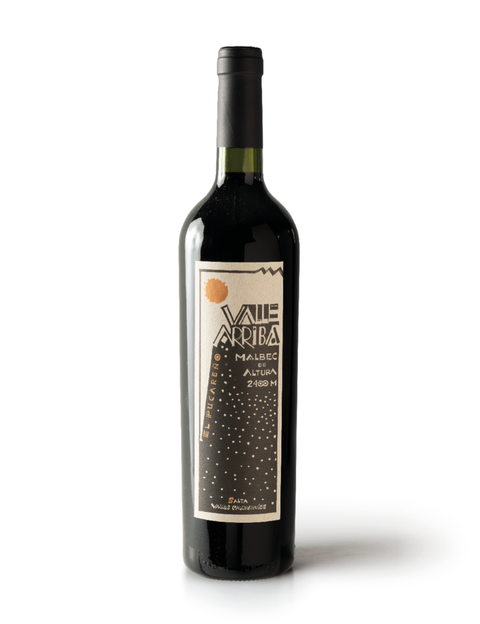 Valle Arriba
Valle Arriba "El Pucareno" Malbec de Altura 2400m 2017
Valles Calchaquís - Salta, Valles Calchaquís, Argentina
100% Malbec | 14.5% ABV
We are delighted to offer this Argentinian red wine made with 100% Malbec grapes. The vineyards of "El Pucareno" are slightly lower in altitude compared to "El Cateno" and whilst 200 meters might not sound that much lower, this wine shows more richness and flesh. Only several hundred bottles are produced each year so grab it while stock lasts.
Tasting Notes
This wine offers a fairly ample palate of black cherries, black currant and earth, and truffle notes. Sumptuous but fresh.
Service & Food Pairing
Service: Serve at 15 to 18°C.

Food Pairing: Excellent with beef, duck, lamb, pasta with tomato sauce, pork, and vegetarian dishes.
Meet the Winemaker
Meet the winemaker, Raúl Dávalos. Raúl is a qualified agricultural engineer. He is the sixth generation of winemakers and knows in detail every corner of the high Calchaqui valley, its soils, rivers, and mountains.

"We like to preserve as much as possible the originality of our fruit so we use natural yeast and we don't use oak in our wines showing the big expression of our high altitude grapes." Says Raul.
About the Vineyard & Estate
Valle Arriba is one of the most unique estates established in 2007. They cultivate three vineyards that are all at high altitude ranging from 2200-2600 metres above sea level. Some are only accessible by crossing dry riverbeds.

El Pucareno is located at 2400 metres spread over 3 hectares, in the North of the Calchaquí Valley and consists of sandy loam soil, clay in depth. These are micro-valleys with high oenological potential.
Sustainability Assessment
Wine&Earth Sustainability Rating pending.

Valle Arriba, operating in the Calchaquí Valley in Argentina, has been taking steps towards environmental sustainability and the promotion of oenological diversity. The selection of high-altitude micro-valleys, known as Valle Arriba, indicates a strategic approach to leveraging unique terroirs for exceptional winemaking. The commitment to producing exclusive, small batches for collectors suggests a dedication to quality and the preservation of the landscape's unique characteristics.
Paula Marra, an entrepreneur with a diverse background in agriculture and development, and Raúl Dávalos, an agricultural engineer and winemaker of a long-standing vintner family, steer the vineyard towards sustainable socio-economic enhancement of the region, aiming to elevate the region's profile in the global wine market while being mindful of the environmental impact.

The full low-down
Red | Still | 75cl | 14.5% ABV
Annual Production: 400 bottles.
Recognition: Vintage 2015 – Tim Atkin: 93pts, Patricio Tapia - Descorchados: 93pts | Vintage 2017 – Tim Atkin: 91pts, Patricio Tapia - Descorchados: 94pts | Vintage 2018 – Patricio Tapia - Descorchados: 92pts, Tim Atkin: 92pts | Vintage 2020 - Tim Atkin: 92pts
Cellaring: Drinking well now.
Vinification: Cultivated from a vineyard planted at 2400 meters above sea level using the 'Espaldera baja' training method, with a soil composition of sandy loam soil with clay in the depth. Harvested in April 2017 and fermented in concrete for 12 days at 26-29°. Macerated for 30 days, no oak.
Why buy from Wine&Earth?
We care. About wine. About the planet. And about providing brilliant service.
Only the best quality wines, as selected by top sommeliers, make it into our portfolio.
Our sole focus is on ethical producers who nurture the land for today and for the future.
We offer free carbon-neutral delivery to your door when you spend £150 or more.
Proud to be rated "Excellent" by our customers on TrustPilot (average rating: 5 stars).
If you're ever unhappy about the quality, we'll send you a replacement bottle for free.
Quality Organic Wines
At Wine&Earth we specialise in curating eco-friendly wines from independent producers around the world. In this collection, we feature our delicious certified organic wines and biodynamic wines.