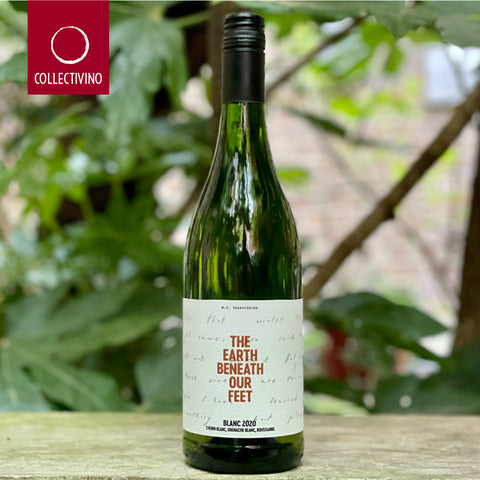 The Earth Beneath Our Feet
Stanley's Blanc 2020
Franschhoek, South Africa
Blend: 60% Chenin Blanc, 30% Grenache Blanc, 10% Roussanne | 13.0% ABV
This is a great wine, but following our merger, there are a few wines that haven't made the cut in our new portfolio. This is one of them. But there's no need for it to go to waste.... snap up our last remaining bottles at a discount!

Click "The full low-down" below to read more about this wine.
The full low-down
This small-batch South African wine from Franschhoek is farmed by Stanley T on his one hectare of land. Sam and the team at The Earth Beneath Our Feet help Stanley and his neighbouring farmers to achieve scale through a share faming model, proving that it's possible for people to earn money even from small plots of land.

Tasting notes

Pale lemon and crisp, with ripe tropical fruits and citrus notes. Clean with delicate herbal aromas. Super refreshing on the palate.

Food pairings

A great easy drinker, with or without food. Would work well for lazy lunches in the garden.

About the winemaker

The Earth Beneath Our Feet is a new wine label player focused on share farming and led by Sam Hatfield, who's background is in organic farming with shared ownership models in Dorset. They focus on small vineyards around Franschhoek in South Africa and they are working to prove that even small vineyard parcels can create meaningful livelihoods for those who work the land through shared ownership and empowerment models that help the local communities thrive. Their model is to empower local growers with the opportunity to manage a vineyard, while receiving a fair share of the income it generates. Each bottle carries the name of the grower behind the wine as well as a handwritten fragment of their personal reflection of the vintage at hand, printed across the label - a very nice touch, we think!

Sustainability Rating: 2* (Good)

We love the journey that the Earth Beneath Our Feet has embarked upon. Their aim is to care for the land, empower the people who work it and make wines that have a distinct sense of place. Each grower takes on the day-to-day management of a vineyard. Support is provided, where needed, in order to build their capacity to farm in a sustainable way. Growers receive a share of the income generated by their vineyard, what remains is used to cover the running costs incurred during the season.

Sam is a UK organic farmer by background. Part of his work with the local growers is to provide training and guidance on sustainability – for example he's helped Stanley, who runs the Syrah and Chenin Blanc blocks, to convert to organic farming (as yet uncertified). Think lots of chicken manure, winter cover crops and mulching. Beyond organic farming, they have also transitioned the vineyard to dryland (i.e. no manual irrigation) since water is such a precious commodity in South Africa. And the result of all of the above has been to further increase the quality of the fruit.

Other Info: White. 13% ABV. 60% Chenin Blanc, 30% Grenache Blanc, 10% Roussanne. Steel maturation. Screw cap.

Why buy from Wine&Earth?
We care. About wine. About the planet. And about providing brilliant service.
Only the best quality wines, as selected by top sommeliers, make it into our portfolio.
Our sole focus is on ethical producers who nurture the land for today and for the future.
We offer free carbon-neutral delivery to your door when you spend £150 or more.
Proud to be rated "Excellent" by our customers on TrustPilot (average rating: 5 stars).
If you're ever unhappy about the quality, we'll send you a replacement bottle for free.
Quality Organic Wines
At Wine&Earth we specialise in curating eco-friendly wines from independent producers around the world. In this collection, we feature our delicious certified organic wines and biodynamic wines.