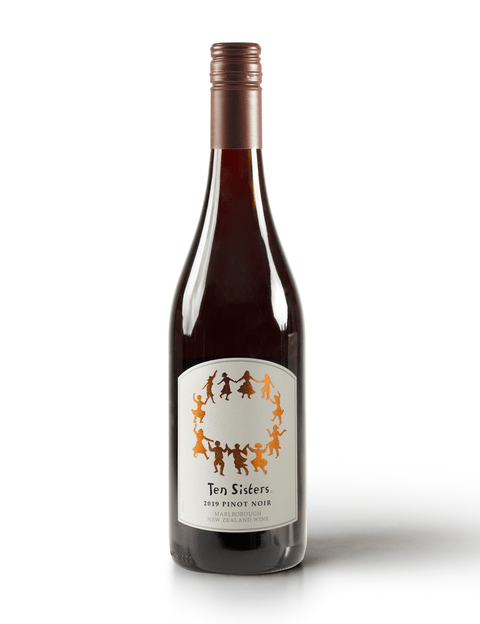 Ten Sisters
Ten Sisters Pinot Noir 2019
Marlborough, New Zealand
100% Pinot Noir | 14% ABV
Discover this 2019 Pinot Noir that has appealing crunchy fruits and raspberry leaf that hit the hooter first followed by some light spice. Smooth, with light tannins and balance - a classic Marlborough Pinot! Ten Sisters makes quite a delight that has lots of freshness, sweet fruit and doesn't take itself too seriously.
Tasting Notes
Aroma: Berry aromas, subtle spice and well-integrated oak.

Palate: Fruit-driven; plum and dark berry flavours.
Smooth, fine-grain tannins and excellent structure and balance.

Service & Food Pairing
Service: Serve slightly chilled at 12-18°C.

Food Pairing: Goes well with cheese, meat or oily dish, pork, poultry and vegetarian dishes.
Meet the Winemaker
Ellie Bartow, daughter of one of the Ten Sisters, and her husband Dennis now manage the family's wine business.

"Ten Sisters is named after the ten King daughters, who have one brother. My mother is the fourth oldest. She, my grandmother and I launched Ten Sisters, with some help from the rest of the family (brother included!). Our wine label was designed by my mum".

"Our Pinot Noir, is aged in a combination of new and older French oak barrels and is made in a food-friendly Old-World style. Our vineyard and winemaking facilities are certified as sustainable", says Ellie

About the Vineyard & Estate
The Ten Sisters and their brother are fourth-generation New Zealanders and their ancestors were among the first settlers of the southern tip of the South Island of New Zealand.

Their parents, Robert and Mary King, were both born in Invercargill, the southernmost city in the country. After Robert returned from World War II, he bought 750 acres of wild, uncultivated land and, over many years, created a beautiful farm.

He and Mary would eventually have 11 children, only one a son. As their family grew and children and grandchildren lived abroad, the family would often have reunions around the world, travelling together and sharing and developing their love of food and wine. Later in life, Robert and Mary moved to the sunniest part of New Zealand, Marlborough, and planted a 4 hectares of vineyard on their land, fulfilling their longtime dream.

A single vineyard located in the prime wine-growing portion of renowned Marlborough, flanked by golden hills and blue mountains.

The full low-down
Red | Still | 75cl | 14% ABV | Contains Sulphites
Annual Production: 10,000 bottles.
As listed by: Capitol Hill Club (a club for U.S. members of Congress)
Recognition: 2016 Ten Sisters Pinot Noir - 90: Wine Spectator, 2015 Ten Sisters Pinot Noir: 90: Wine Spectator, San Francisco International Wine Competition: Gold
Cellaring: Drinking well now through 2026.
Vinification: Traditional plunging of cap to extract colour and tannin. Fermentation reach 30C in cap. Maceration 2-3 weeks. Partial oak aging. Blended prior to bottling.


Organic - Independently Certified
Why buy from Wine&Earth?
We care. About wine. About the planet. And about providing brilliant service.
Only the best quality wines, as selected by top sommeliers, make it into our portfolio.
Our sole focus is on ethical producers who nurture the land for today and for the future.
We offer free carbon-neutral delivery to your door when you spend £150 or more.
Proud to be rated "Excellent" by our customers on TrustPilot (average rating: 5 stars).
If you're ever unhappy about the quality, we'll send you a replacement bottle for free.
Quality Organic Wines
At Wine&Earth we specialise in curating eco-friendly wines from independent producers around the world. In this collection, we feature our delicious certified organic wines and biodynamic wines.