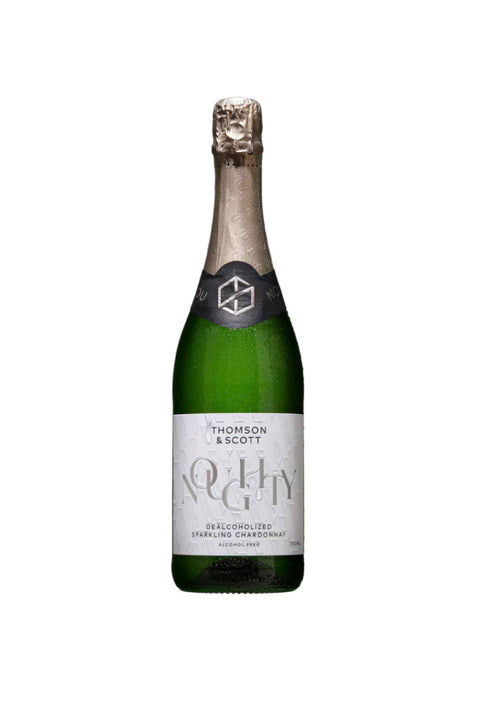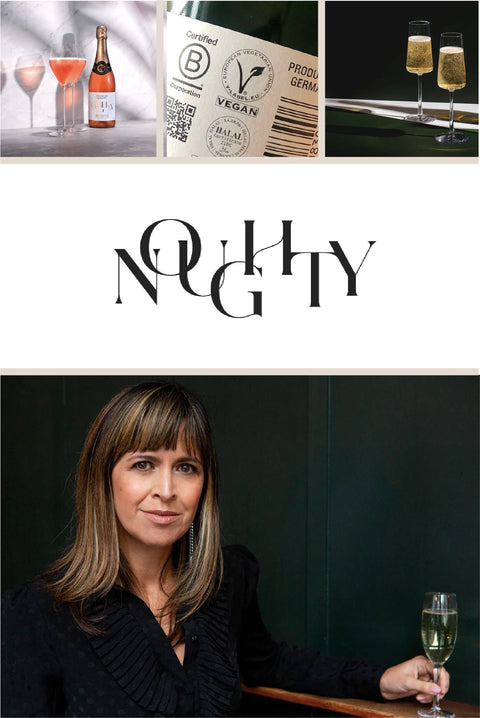 Thomson & Scott
Noughty Sparkling Chardonnay NV (0%)
Chardonnay | 0% ABV
This is a delicious alcohol-free, organic, vegan, low-calorie sparkling Chardonnay. Noughty was launched in 2019 and shook up the global wine industry. Their aim is to revolutionise non-alcoholic wine drinking with a premium portfolio of sparking and still dealcoholized wines. And producers Thomson & Scott are a Certified B-Corporation too, this is a business which is a force for good.
Tasting Notes
Elegant pale colour with a crisp and ripe apple scent accompanied by a touch of sweetness.
Service & Food Pairing
Serve chilled.

Pairing: a great alternative to wine for aperitif and party nibbles, as well as with all manner of cuisine for those who choose not to drink alcohol.
About the Vineyard & Estate
The grapes for this wine are grown in sandy and calcareous vineyards located in southern Spain.
Sustainability Assessment
2* - Moving on Up

Thomson & Scott are a certified B-Corp business, meaning they are a committed to high standards of verified performance, accountability, and transparency on factors from employee benefits and charitable giving to supply chain practices and input materials.

They work with two separate family-run wineries – one in Germany and one in South Africa. The German winery sources organic grapes from Spain, uses renewable energy and is in the process of installing new steam generators and energy systems. In South Africa, for irrigation, the vineyard aims to use as much natural water reserves as possible, and the winery is involved in local social initiatives in community and offers employee ownership opportunities. All packaging uses recyclable components as far as possible. Although Thomson & Scott are yet to calculate their end-to-end carbon footprint, they are working with Tree Points and for every bottle sold they make a donation for the planting of trees to offset carbon. 10,000 trees have been planted to-date.
The full low-down
White | Sparkling | 75cl | 0% ABV | SO2 <150mg/L
As listed by: The Eden Project in Cornwall
Recognition: Described by The Independent: "In short, when it comes to booze-free-fizz, Noughty is as close to the real thing as we've found."
Vinification: Traditional winemaking in stainless steel vats for a further dealcoholization by vacuum distillation with aroma recovery. The wine is then lightly carbonated.
Halal | Gluten-free
Organic - Independently Certified
Vegan - Independently Certified
Why buy from Wine&Earth?
We care. About wine. About the planet. And about providing brilliant service.
Only the best quality wines, as selected by top sommeliers, make it into our portfolio.
Our sole focus is on ethical producers who nurture the land for today and for the future.
We offer free carbon-neutral delivery to your door when you spend £150 or more.
Proud to be rated "Excellent" by our customers on TrustPilot (average rating: 5 stars).
If you're ever unhappy about the quality, we'll send you a replacement bottle for free.
Quality Organic Wines
At Wine&Earth we specialise in curating eco-friendly wines from independent producers around the world. In this collection, we feature our delicious certified organic wines and biodynamic wines.