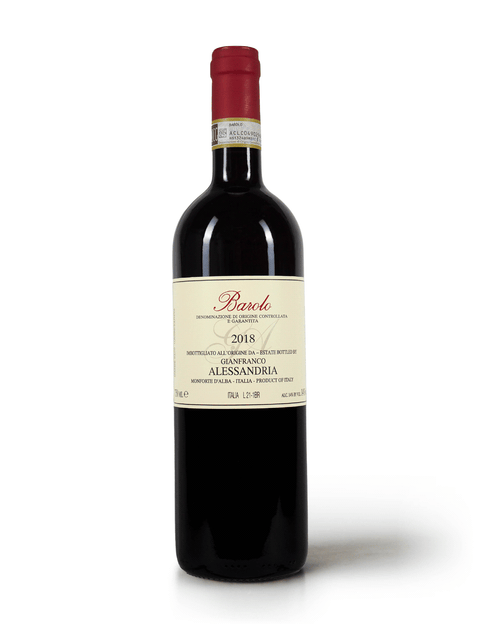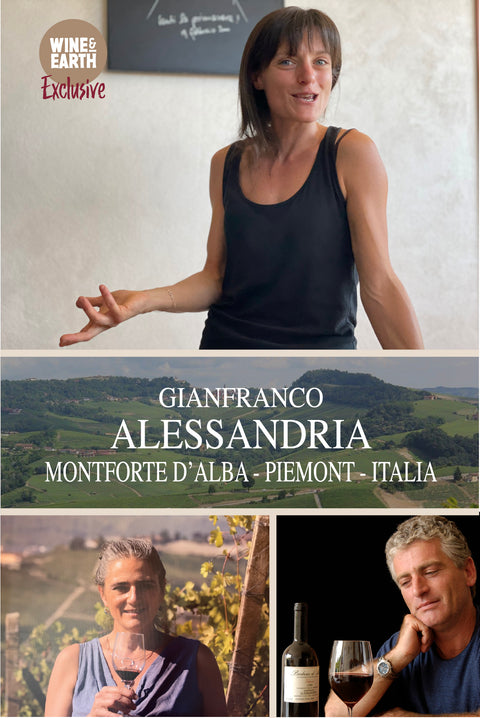 Gianfranco Alessandria
Gianfranco's Barolo 2018
Barolo DOCG, Piedmont, Italy
Nebbiolo | 14.0% ABV
It's hard to go wrong with a Barolo. Made from 100% Nebbiolo (known as the "Ferrari of grapes" in Italy!), this is a classic Barolo from vineyards in San Giovanni. Made with grapes from vines of middle-to-old-age, it's an easy-drinking Barolo with the traditional taste and character of the Monforte terroir. Drinking amazingly already, and will develop further for the next 10-12 years.
Tasting Notes
Thin garnet in colour. On the nose, redcurrant, blackcurrant, liquorice, dried herb, dark chocolate and rose. As you'd expect from a good Barolo it is dry with a full body and long finish. It's masculine with full luscious fruits while not being overbearing. It's elegant but not timid.
Service & Food Pairing
Service: Best served at 18-20°C. Decant and allow to breath for at least an hour before enjoying. Serve in a large goblet to allow the aromas to diffuse.

Food pairing: Barolo is packed with tannin and acidity that allows it to pair best with flavourful dishes such as Prime Rib, Rib Eye Steak, Osso Buco, Cottage Pie, Veal Chops, Roasted Goose and Venison Stew.
Meet the Winemaker
Winemaking is now overseen by Gianfranco's daughters Martha and Vittoria. Martha studied wine in D'Alba, and the sisters have complementary skillsets bridging both "science" and "art" in the winemaking process.
About the Vineyard & Estate
This family business was founded during World War II by Vittoria's grandparents, who began farming orchard fruits, hazelnuts and vines. Today, the 10-hectare estate is run by two generations of the family.

Gianfranco Alessandria is a small family-owned winery located just outside of Monforte d'Alba, a small village in the Barolo area that over time has attracted the attention of the lovers against the Langa, helping them to discover the history, scenery, food, wines of the area, as well as boasting one of the most picturesque views of the Alps.

A man blessed among women, Gianfranco Alessandria along with his wife Bruna and two daughters Marta and Vittoria, who are fully experienced in all the production phases of the cellar, carry on the family tradition started by his grandparents in 1940, when his grandfather became a grape grower.

Today they work with 8 hectares of vineyards divided between Nebbiolo, Barbera and Dolcetto, in the San Giovanni locality, which is situated in the area of some of Monforte's best-known Crus. All the vineyards have a south-east exposition, which allows Gianfranco Alessandria to produce wines of great structure, with freshness and elegance and longevity.
Sustainability Assessment
1* Up & Coming

DOCG rules in Italy greatly restrict what vineyards are able to do (e.g. the planting of trees within vine-designated land is not currently allowed, limiting options for estates to increase biodiversity). But Vittoria's aim is for the estate to produce the highest quality low-intervention wines, which are produced with respect for people and respect for nature. Although as yet uncertified, the vineyard has been practising organic viticulture since 2015.
The full low-down
Red | Still | 75cl | 14% ABV | SO2 108 mg/L
Production: ~12,000 bottles/year
Cellaring: Easy drinking now, can also lay down and develop for 10-12 years.
___
Vinification: 24 months in french barrels, 15-20% new oak
Vineyard last visited by Wine&Earth's Martin & Archie in Autumn 2022
Why buy from Wine&Earth?
We care. About wine. About the planet. And about providing brilliant service.
Only the best quality wines, as selected by top sommeliers, make it into our portfolio.
Our sole focus is on ethical producers who nurture the land for today and for the future.
We offer free carbon-neutral delivery to your door when you spend £150 or more.
Proud to be rated "Excellent" by our customers on TrustPilot (average rating: 5 stars).
If you're ever unhappy about the quality, we'll send you a replacement bottle for free.