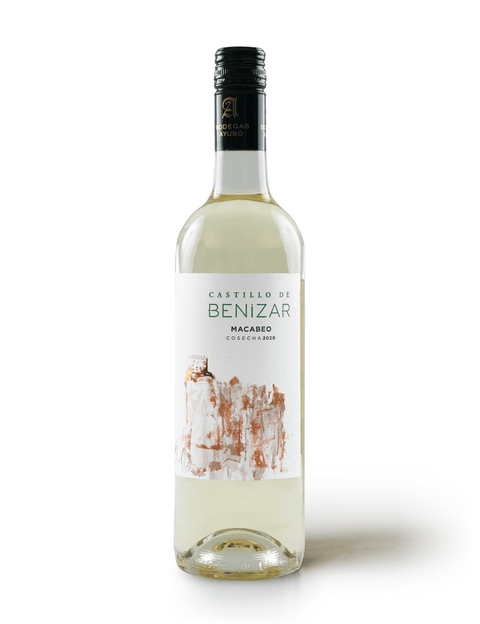 Bodegas Ayuso
Castillo de Benizar Macabeo 2022
DO La Mancha, La Mancha, Spain
100% Macabeo | 12.5% ABV
Discover this Spanish white wine made from 100% Macabeo grapes known for its saline freshness and floral notes as well as its richer texture when harvested ripe. The 2022 Macabeo is fresh and expressive with lots of pear, pineapple and lime. A perfect choice for a barbecue, a garden party or nibbles.
Tasting Notes
Pale yellow colour. Elegant, fruit aroma with a delicious finish, balanced and with a hint of sweetness.

Service & Food Pairing
Service: Serve chilled at 6ºC - 8ºC.

Food Pairing: It is perfect to accompany with fish and seafood.
Meet the Winemaker
Winemaker Rubén Ruiz Moratalla is a chemical engineer who studied in La universidad de Murcia and pursued oenology thereafter. He's been part of the Bodegas Ayuso team for more than 3 years now, with ongoing training. Rubén is authentic, creative mind and never settles, always looking for ways to improve techniques and the wines. He is passionate about his job and about adding his own touch to our wines. Something he says: "Wine is medicine for the soul"

About the Vineyard & Estate
The vineyard is composed of 350 hectares, incorporated to the winery in the 1990s. It is called "Finca los Azares". In Spanish, "azar" means "luck". In the vineyard, every parameter that is considered important in winemaking is of paramount interest, in order to ensure premium care and quality.

The full low-down
White | Still | 75cl | 12.5% ABV | Contains Sulphites
Annual Production: 240,000 Bottles.
Recognition: Gold Medal at "Japan Awards". London (United Kingdom), February 2022
Cellaring: Drinking well now.
Vinification: Grapes from Finca los Azares (Bodegas Ayuso's vineyard). Ripening control in the field to determine the optimum harvest date, with analysis of physical-chemical parameters for technological ripening. Controlled grape reception, with quality and sanitary controls in the unloading area. Pre-fermentation maceration to obtain full aromatic potential.
Why buy from Wine&Earth?
We care. About wine. About the planet. And about providing brilliant service.
Only the best quality wines, as selected by top sommeliers, make it into our portfolio.
Our sole focus is on ethical producers who nurture the land for today and for the future.
We offer free carbon-neutral delivery to your door when you spend £150 or more.
Proud to be rated "Excellent" by our customers on TrustPilot (average rating: 5 stars).
If you're ever unhappy about the quality, we'll send you a replacement bottle for free.
Quality Organic Wines
At Wine&Earth we specialise in curating eco-friendly wines from independent producers around the world. In this collection, we feature our delicious certified organic wines and biodynamic wines.